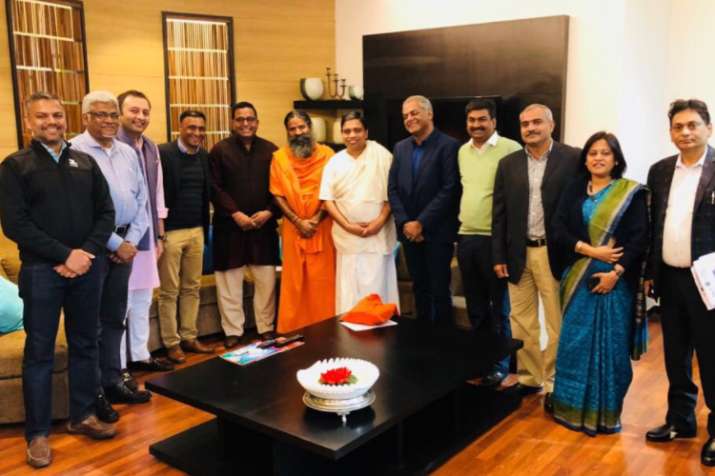 Yoga guru Baba Ramdev's Patanjali Ayurveda has entered into an agreement with major e-commerce websites to give a big push to the online sale of its Swadeshi range of Fast-moving Consumer Goods (FMCG) products.
Patanjali Ayurveda's products will now be available on online websites, including- PayTM Mall, Big Basket, Flipkart, Grofers, Amazon, netmeds, 1mg, Shopclues, and others.
Ramdev said that the online mechanism aims to provide convenient and efficient option along with the extension of the traditional retail market.
"Utmost care has been taken to ensure (the) Swadeshi movement and it has been ensured that Patanjali products reach into every home without compromising on policies and business ethics," he said. 
Patanjali is organising a function today and representatives of all the online companies are attending it along with Ramdev and its MD Acharya Balkrishna.
Here are the highlights of the launch event:
12:40 pm: Our plan to launch a restaurant chain has been postponed as of now: Baba Ramdev
12:39 pm: Patanjali Paridhan (clothing range) will be launched either by Diwali this year or January next year: Baba Ramdev
12:36 pm: Patanjali's online venture garnered a sale of Rs 10 crore in December 2017
12:31 pm: 
Now world class Patanjali products will be available from Haridwar to Har Dwar, just on a click #PatanjaliOnline pic.twitter.com/phhiiFIyuc

— Swami Ramdev (@yogrishiramdev) January 16, 2018
12:30 pm: The e-commerce websites have assured us that they will neither sell our products on discount, or through any other offers: Acharya Balkrishna
12:29 pm: Patanjali's turnover in 2016-17 over Rs 10,500 crore
12:19 pm: Patanjali's online venture is capable of catering up to 10 lakh crore daily, says Baba Ramdev
12:11 pm: Baba Ramdev-led Patanjali Ayurveda announces collaboration with major e-commerce websites including Flipkart, Amazon and Paytm Mall
12:08 pm: We have targeted production capacity of Rs 1 lakh crore by next year: Baba Ramdev 
12:06 pm: Around Rs 50,000 crore production capacity to be started this year: Baba Ramdev
12:05 pm: 'From Haridwar to Har Dwar' is our new slogan, says Baba Ramdev
These partnerships with e-tailers will be in addition to its own portal patanjaliayurved.net, where the company is selling its products online. "This would change the scenario of whole FMCG trade through online" he added.
Some of Patanajali's products are already available on several online platforms through various other sellers but this would allow the Haridwar-based firm to systematically place its range of products.
Last month, it had also announced to venturing into solar equipment manufacturing. Besides FMCG (fast-moving consumer goods) segment, Patanjali Ayurved is present in other sectors such as education and healthcare.
In 2016-17, it had crossed a turnover of Rs 10,500 crore and aims a two-fold growth this fiscal.