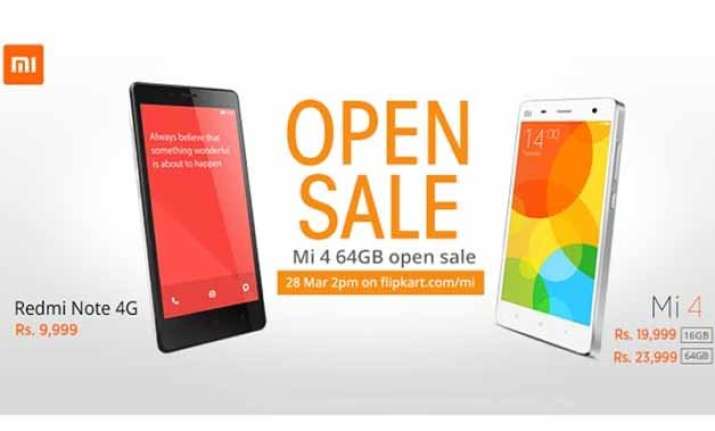 New Delhi: Eyeing a larger pie of the high-growth Indian smartphone market, Chinese handset maker Xiaomi has joined hands with Mobile Store to start selling its device through the retail store.
Xiaomi will begin selling its flagship phones in The Mobile Store's brick and mortar shops. Till now the company was selling handsets through flash sales on Flipkart alone. However, the method of flash sales has annoyed many as it involved a registration process and people are left out sulking as the whole inventory gets sold out within a few seconds. Moreover, a lot of people could not buy the handsets despite registering for it multiple times – thus making them immensely frustrated.
To begin with, a relatively lower number of Mi 4 and Redmi Note 4G will be available for purchase at The Mobile Store, which will begin selling them in 55 stores in Delhi NCR, from Saturday, at Rs 19,999 and Rs 9,999, respectively, the same prices as that offered on online partner Flipkart.
Xiaomi had recently tied up with Bharti Airtel to sell Red Mi Note 4G through the carrier's 133 stores in areas where Airtel offers 4G services. Like Bharti Airtel's stores, The Mobile Store shops will act as service centers where users will be able to get their phones repaired, the company's chief executive Himanshu Chakrawarti said.
Its association with Flipkart will continue where it will sell all models through weekly flash sales. Xiaomi recently launched the Red Mi Note 2 for Rs 6,999, which will go on sale from March 31 on the popular e-commerce site.
India's largest larger mobile phone retailer which has over 800 stores, will launch the phones in other cities, covering the top 300 stores across the country. The stores will have a live Mi Zone where customers will be able to look and feel the devices, and buy them on the spot, without waiting for the weekly flash sale.
Specifications of Redmi Note 4G
Redmi Note 4G sport a 5.50-inch 720x1280 display and is powered by a Qualcomm Snapdragon 400 MSM8928, quad-core 1.6GHz processor, runs on Android 4.4 (KitKat), has a 5MP front camera and a 13 MP rear camera. The Redmi 4G comes with 2GB of DDR3 RAM and is priced at Rs 9,999.
Specifications of Mi4
The Mi 4 sports a 5-inch full HD display with Corning Concore Glass, and runs on Android 4.4.4 KitKat (with MIUI v6.0). It is powered by a Snapdragon 801 series quad-core 2.5 GHz CPU, 13MP rear and 8MP front cameras, 3GB of RAM, 16GB inbuilt storage and 3,080mAh battery. The phone is priced at Rs 19,999.