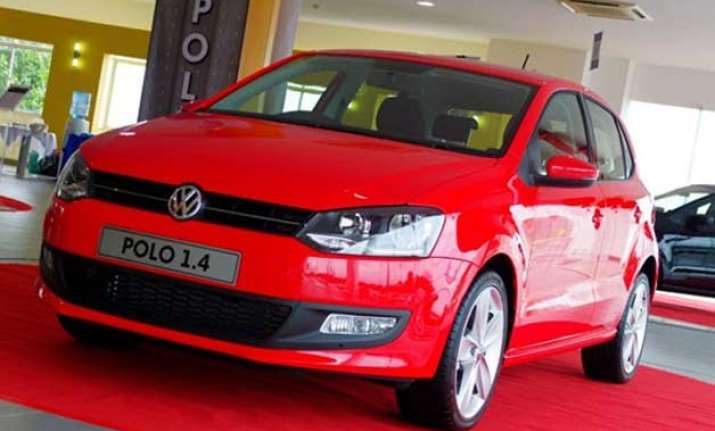 New Delhi: German auto major Volkswagen today recalled 389 units of its best selling premium hatchback Polo in India, manufactured in September this year, to rectify faulty handbrake.     
"In the context of a voluntary safety measure, Volkswagen Passenger Cars in India is calling 389 Polo cars from a single batch of production from the month of September 2015 for inspection and preventive repair of the handbrake mechanism," Volkswagen India said in a statement.
The company's quality assurance department has determined that under certain conditions, the handbrake mechanism would lose effectiveness, it added.  
"The analysis performed by Volkswagen has shown that a batch of handbrake cable retention levers in the rear brake liner might break under certain conditions," it said.      
Customers who own the identified vehicles will be actively contacted by the Volkswagen dealers to come for an inspection and preventive repair. This operation will start with immediate effect, the company said, adding it would be carried out at no cost to the customer.    
"The deliveries of the identified Polo cars in stock which had been put on hold yesterday will be resumed as and when the inspection and preventive repair of each car is completed. Volkswagen further confirms that deliveries for he non-impacted Polo range continue as per schedule," the company said.
Yesterday, Volkswagen had asked its dealers in India to temporarily stop selling hatchback Polo, citing a technical issue, which however is not related to the emission scandal that has hit the firm in the US and Europe.
VW India produced 20,030 units of Polo in the April-August period this year. It had sold 13,827 units in the domestic market and 6,052 were exported.  
Automobile manufacturers have been recalling vehicles on safety issues since industry body Society of Indian Automobile Manufacturers initiated a voluntary policy in July 2012.      
A total of 13,25,064 vehicles have been recalled so far in India by various companies ever since it started.      
Last month, Honda Cars India had recalled around 2.24 lakh units of its premium sports utility vehicles — CR-V, sedans Civic, City and hatchback Jazz, manufactured between 2003 and 2012 — to replace faulty airbag inflators in the largest such exercise in the country.
Earlier this week, Volkswagen had said that it is still evaluating the impact of the emission scandal on Indian operations, and a recall of vehicles will depend on findings of the ongoing investigations.
The EA189 diesel engines were fitted with the software that enabled manipulation of emission tests. VW has already announced that globally around 11 million vehicles have been affected. The company faces fine of over USD 18 billion in the US over the issue.