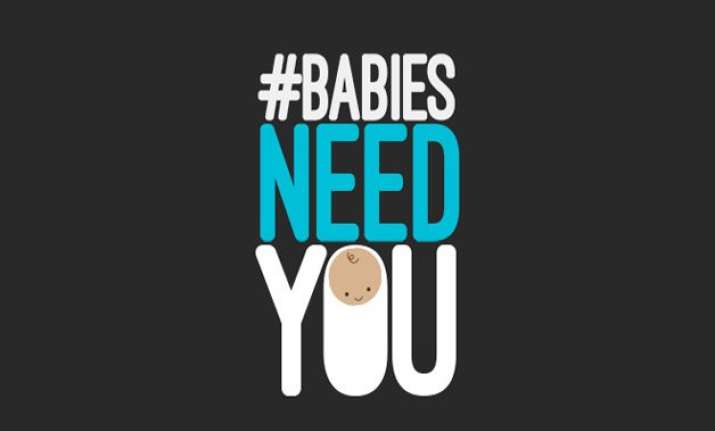 New Delhi: UNICEF India recently launched #babiesneedyou, a digital campaign that implores parents, future parents and the general public to put vaccination high on their priority list. The campaign seeks to create strong advocates in every community and family to help raise awareness about the need for full immunisation for each and every child. This initiative supports the efforts led by the Government of India for routine immunisation under Mission Indradhanush, which started yesterday, on World Health Day.
 
Immunisation is one of the most successful public health initiatives. Each year, globally, vaccines avert an estimated 2 to 3 million deaths from life threatening diseases that disproportionately affect children. Immunisation saves 400,000 children every year in India where the Ministry of Health carries out the largest immunisation operation in the world, reaching 27 million infants and 30 million pregnant women annually.
 
Beyond raising awareness on the importance of immunisation on social media, the campaign aims at engaging the public into action by offering different ways to "Donate Time" to the cause. Responsible citizens can spread the word on social media with ready to share tweets and Facebook posts for immunisation awareness. Friends and relatives of new parents can choose to throw an immunisation challenge at them. Alternatively, the unconventional activists can play 'The Immunisation Hit'. They can even play an interactive video to raise a cute virtual baby called BabyMe and make important health-related decisions for her. All of these online activation tools rest at www.unicef.in/babiesneedyou
 
"We cannot rest until the lives of all children everywhere are protected through immunisation. Each and every one of us has a responsibility to shield our children from illness with vaccination – especially the most vulnerable. The task is challenging but achievable if we all work together. As stated by the Minister of Health and Family Welfare, Jagat Prakash Nadda at the launch of Indradhanush Mission, to be successful we need total cooperation from the society," Louis-Georges Arsenault, UNICEF Representative in India, said.
 
As part of the #babiesneedyou campaign materials, UNICEF has developed three videos that challenge Indian parents to question their concerns regarding their children's health. The below video depicts how young parents look forward to watching their child have a fulfilling life, even before stopping to wonder if they are taking the right steps towards keeping the baby healthy through immunisation. The other two videos will be unveiled in the following weeks.
A series of short films highlighting the critical role of frontline workers in creating awareness on the need for immunisation and reaching vulnerable children in hard-to-reach areas will also be launched as part of the campaign materials.
 
"This initiative is part of a much larger communication effort on routine immunisation in which media from national, state and district levels is being engaged through workshops and field visits in order to create an in depth discussion around the need to reach left out and drop out children," explained Caroline den Dulk, Chief Advocacy and Communication, UNICEF India.
 
Almost nine million children in India are at risk of contracting vaccine preventable diseases due to lack of full immunisation.