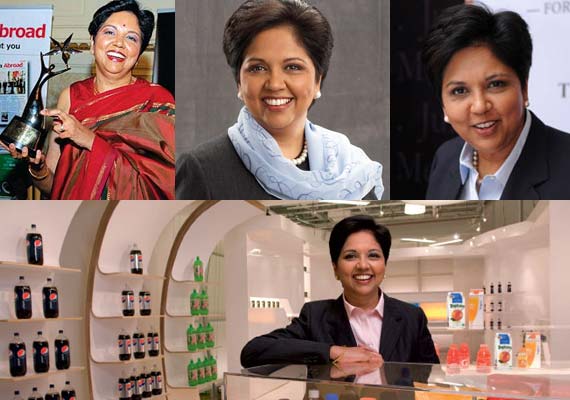 New Delhi: Soft drink major PepsiCo's India born CEO Indra Nooyi is amongst those women who have shattered the glass ceiling to lead one of America's largest corporation, according to Fortune magazine' s latest ranking. PepsiCo chair and CEO Indra Nooyi has been placed second in Fortune magazine's latest Most Powerful Women in Business rankings.
Under Nooyi's guidance and leadership, PepsiCo has expanded beyond the flat domestic soda business, entering fast-growing categories such as yogurt and hummus. Today, PepsiCo boasts of being a $22 billion brand.
Indra Nooyi was born on Oct. 28, 1955 in Chennai and completed her schooling from Holy Angels School, Madras and did B.Sc in chemistry from madras Christian college. She subsequently earned a masters degree in finance and marketing from IIM Calcutta. Nooyi also holds a master degree in public and private management from the Yale school of management.
As the head of strategy at PepsiCo, she was instrumental in much of its restructuring. During her stint, PepsiCo sold off the restaurant business and spun off its bottling operations, and acquired new businesses like Tropicana and Quaker Oats. In 2006, she was named CEO, only the fifth in PepsiCo's history. Under his leadership, the company has achieved consistent growth over the years.
Nooyi is also credited to push PepsiCo to expand its portfolio beyond soda and potato chips into "good for you" food segment which includes soft drinks with less calories, chips with less sodium or yoghurt with more fruit. But that doesn't mean she doesn't love Pepsi-Cola, Nooyi said in an interview. "I'm the only person who drinks blue-can Pepsi on this floor," she said of regular Pepsi-Cola, gesturing to the company's executive offices. "I drink blue-can Pepsi exclusively." Regarding diversification, she says the company will keep on adding healthier brands and products that can be consumed morning, noon and night.
According to her, PepsiCo's acquisition of Russian dairy Wimm-Bill-Dann helped the company delve into yogurts and grain-enriched dairy products that many people are consuming as meals. "I will make a prediction, that anybody who's in the [beverage business] today will get into dairy, without a doubt," she said.
She says PepsiCo is pursuing a dual strategy for cola. The company is spending money to maintain its base business and at the same time searching for a breakthrough in sweeteners that will yield a naturally sweetened, zero-calorie cola, what Nooyi calls "the ultimate nirvana."
Nooyi says her rise to the top follows several sacrifices in managing her career and her family. Nooyi credits her husband for his support; she says he took on half of her workload at home so she could continue building her career.
Here are 15 best quotes from her on leadership, family and work-life balance.  
Leadership is hard to define and good leadership even harder. But if you can get people to follow you to the ends of the earth, you are a great leader.