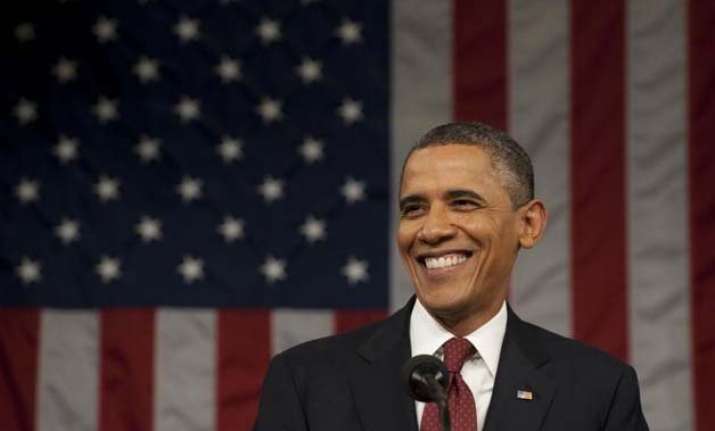 New Delhi: US President's Barack Obama visit to India may be just a few weeks away but preparations are in full swing in the Capital to receive the world's 'most powerful' man.
Security agencies of the US along with the Delhi Police, Central Industrial Security Force, Intelligence Bureau, and air traffic controllers, are preparing a security plan on the ground and in the air for the Obama visit.
The US President is expected to arrive in the national capital on January 24 to attend the Republic Day Parade on January 26. A report in The Hindustan Times suggests that the entire ITC Maurya has been booked for US President Barack Obama's entourage. Obama is likely to stay at the Grand Presidential or Chandragupta suite, which spans an entire floor and has a separate entrance through a private high-speed elevator. During the visit of former US president Bill Clinton in March 2000, the suite was synonymous with opulence, luxury, comfort and style. The suite offers two huge bedrooms, bulletproof windows, a living room, a study, a peacock themed 12-seater private dining room and an opulent bathroom.
To ensure full-proof security for this visit, Obama's security team will take over ITC Maurya Sheraton Hotel from January 20 and seal the place till the President's departure.
"Over 20 members of the advance detail of the US Secret Service, the federal law enforcement agency responsible for the protection of the US president, are expected to arrive in the capital Jan 13," IANS quoted an official, who did not wish to be named, as saying.
And just before his visit, US sleuths have inspected Maurya Sheraton three times to check on its proximity to the main road, safety, food and other aspects. US security team will handle the main residential area, food and travel routes used by Obama.
Obama will also have the option to access a well-equipped microbiological laboratory for testing his food, to be prepared in a separate kitchen by his accompanying butler.
As compared to his 2010 visit, there will be more security challenges this time as Obama would be seated in the open on Rajpath for the Republic Day parade for over two hours.
As per reports, security agencies have conducted several meetings to look into various aspects of the President's security, including evacuation via an alternate route in case of emergency.
Officials further said that every building within a radius of two kilometers in New Delhi district will have snipers and commandos.
Sources said that Rajpath will be closed for public from January 24 evening and government offices in the vicinity of Raisina Hill will be closed from January 23 till the end of Obama's visit.
There will also be heavy security around ITC Maurya as watch towers have been erected on the central ridge opposite the hotel.
Moreover, the US will also be flowing in teams of US Marines and other special forces to provide fool-proof security to the President.