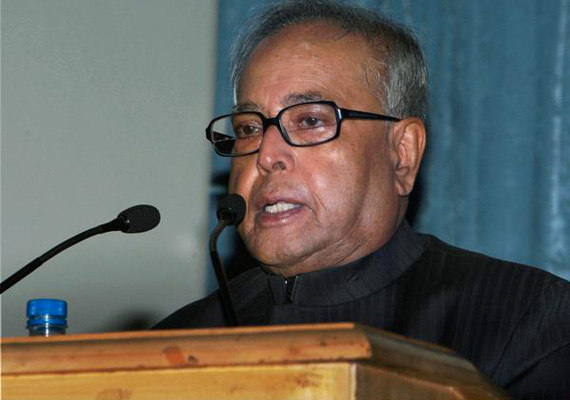 New Delhi, Mar 25: Maintaining that there was no trust deficit between the government and industry, Finance Minister Pranab Mukherjee today said the Centre will make all efforts to implement the decisions it has taken.
Addressing CII members here, the minister said the trust deficit between industry and government might have been a "concept" in 1970's but the issue has been settled long back.

"I can assure, perhaps I can speak on behalf of the government, that no question of trust defict...we are firmly convinced that in the task of the nation building we are partners and there cannot be any trust deficit between the partners," Mukherjee said.

The government will make efforts to reach consensus on important issues, he added.

"It will be our endeavour to build broad based consensus to implement the decisions which have already been taken and confront issues that need to be addressed," Mukherjee said, adding that the government would taking "some difficult decisions" in the coming months.

The statement assumes significance against the backdrop of government suspending decision to implement foreign direct investment in multi-brand retail after strong opposition to the move, including from its own ally Trinamool Congress.

Also, the Cabinet had taken an in-principle decision in June 2010 to deregulate diesel prices along with petrol but a formal order on freeing diesel rates could not be issued under political pressure. UPA government's allies do not want diesel prices to be deregulated as it could ignite inflation.

Mukherjee pointed out that the government has a limited mandate and cannot take all decisions on its own.

"We have a limited mandate and in (such a) case you cannot expect that (whatever) the executive or the government decides, they get it done. Simply, it is not possible and you cannot fix a square in a round hole. Therefore, the mindset has to be changed," he said.

The Finance Minister said the government can do anything when the it has clear and absolute mandate, but when it has fractured mandate, "you carry people (along)".

In the address to industry, he also expressed confidence that the Direct Taxes Code (DTC) will be legislated in 2012-13, and ready for implementation in the following year.

Standing Committee on Finance headed by Senior BJP leader Yashwant Sinha scrutinised the DTC Bill and submitted the report to Parliament on March 9.

On the proposed Goods and Services Tax (GST) regime, the Finance Minister said the government was working on a model legislation for the new indirect tax regime.

The GST Constitutional Amendment is currently with the Standing Committee on Finance.

The proposed GST would subsume most indirect taxes like excise duty and service tax at the central level and VAT on the state front, besides local levies.

Besides, government would also move ahead with important economic bills related with insurance and banking, he added.