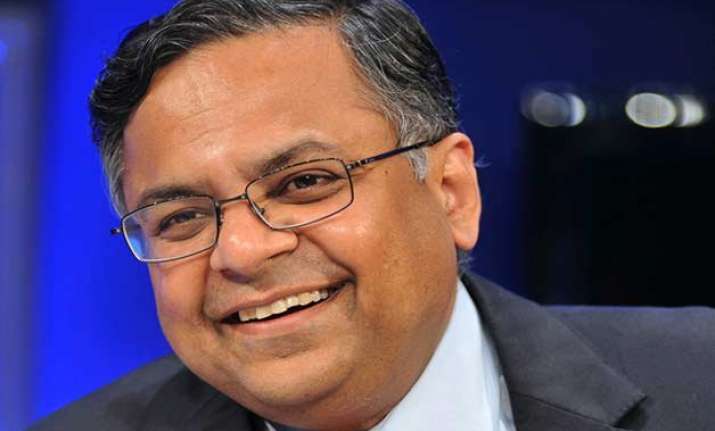 Mumbai: Country's largest software exporter TCS today reported a marginal 0.1 per cent slide in its profit at Rs 5,328 crore for the third quarter of this fiscal, but revenues increased by 15 per cent to Rs 24,501 crore.  The company had reported a net profit of Rs 5,333 crore in the same period last fiscal. Revenues were Rs 21,294 crore in the corresponding period.
"We have maintained our momentum in a traditionally weak quarter for the industry. Our diversified industry portfolio and presence across key markets have helped us overcome soft seasonal demand in some sectors.
"We are well on our way to post industry leading growth for the fiscal," TCS Managing Director and Chief Executive N Chandrasekaran said announcing the numbers here this evening.  The company said its gross employee addition rose to 16,561 during the quarter taking its overall headcount to 3,18,625, while attrition rate stood at 13.4 per cent.  The company added one USD 100-million client and three above USD 50 million clients apart from 20 USD 5 million clients during the quarter.
Employee utilisation stood at 86.7 per cent, excluding trainees and at 82.1 per cent including trainees.  TCS shares rose 1.07 per cent to Rs 2,545 apiece on the BSE in anticipation of earnings announcement made after the market hours, while the benchmark Sensex rallied 2.8 per cent after the RBI surprisingly cut the interest rate by a quarter percent.
Chandrasekaran reiterated that the company is in no way retrenching its staff.
Group HR head Ajoy Mukherjee said: "Our efforts to push the bar on utilisation continues with the rate crossing 86 per cent without trainees and 82 per cent with trainees.  "Our hiring continues to support strong business growth.  We are likely to exceed our hiring target for the current financial year."
Chief Financial Officer Rajesh Gopinathan said: "Sharp cross currency movements have impacted dollar revenues, but we continue to manage operations with discipline and rigour while investing in people, capabilities and infrastructure on an ongoing basis."
Operating profit rose 4.6 per cent to Rs 6,624 crore.  Growth in Q3 was driven by industries like telecoms, hi-tech and life sciences. Europe has led growth, driven by investments made in that market, while North America also grew during the quarter. Among emerging markets, Latin America and MEA registered strong growth whereas global consulting, asset leveraged solutions, infrastructure services and assurance services were the leaders among service lines, he said.  The company declared a dividend of Rs 5 per share which has a face value of Re 1, and its earnings per share (EPS) stood at Rs 27.79.
Chandrasekaran said: "In constant currency terms, we have seen significant growth in the US, Europe as well as emerging markets like Latin America and Middle East Africa.  Our diversified industry portfolio and presence across key markets have helped us overcome soft seasonal demand in some sectors."
He said in areas like digital, simplification and governance, TCS continues to partner closely with customers to help them prepare their businesses to succeed in an economy where the default is digital.