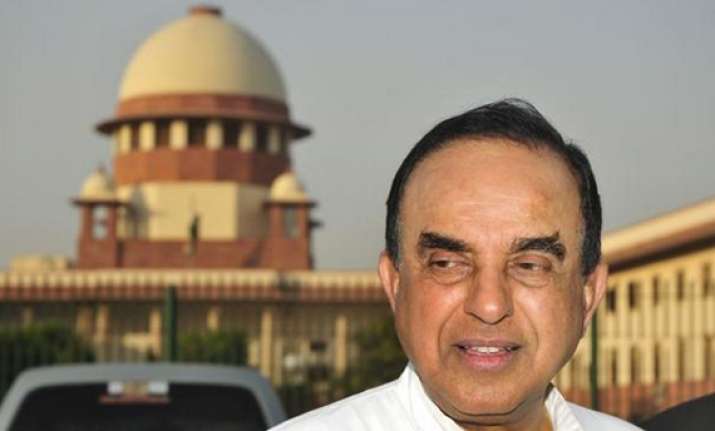 New Delhi: Senior politician Subramanian Swamy was asked by the Supreme Court to move High Court with his plea challenging the clearance given to proposed low-cost airline AirAsia India saying he will have a better opportunity to address his grievances there.
A bench comprising, Justices B S Chauhan and S A Bobde, said it was not making any observation on merits of the matter and asked Swamy to move the high court.
"We want to have the advantage of the high court judgement," the apex court bench said while giving Swamy liberty to file the public interest litigation (PIL) in the High court.
It said the high court verdict will also help him in addressing those grievances by which he would feel aggrieved.
"We are at this moment not on the merits. It must be a good case in merits," the bench said while making it clear that his fundamental right to file the PIL in national interest can be enforced by the high court also.
"Every thing is ready. Don't take time to go to the High Court," the bench told Swamy whose Janata Party recently merged with BJP.
He said Foreign Investment Promotion Board (FIPB) cleared the proposal but the airline does not exist and FIPB cannot give nod to greenfield projects.
Swamy's PIL against the clearance to AirAsia to operate in India got resistance from senior advocate Abhishekh Singhvi, who was appearing for one of the respondents.
Singhvi said this PIL could be on behalf of a trade rival.
"He claims it to be in public interest but there is not a single line in the petition that it is in public interest," he said.
During the brief hearing, the bench wanted to know from Swamy why was he seeking the intervention of the Prime Minister in the issue.
"Under the policy, does the Prime Minister has the right to pass order"? the bench said.
Swamy told the court he was not challenging the policy but questioning the action taken by the government under the policy.
When the bench said "why not we have the advantage of the High Court judgement? Swamy said "your wish is a command for me".
Malaysia's largest budget carrier AirAsia has set up a joint venture with the Tata Group and Telestra Tradeplace to launch the regional airline in India.
AirAsia India will be based in Chennai in which the Malaysian carrier will hold a 49 per cent stake. Initially, AirAsia plans to invest USD 30 million in the company.
In his PIL, Swamy has challenged the clearance granted to the proposed airline on the ground that according to the policy, foreign investment is only permitted for an existing airline but AirAsia India was not an existing carrier.