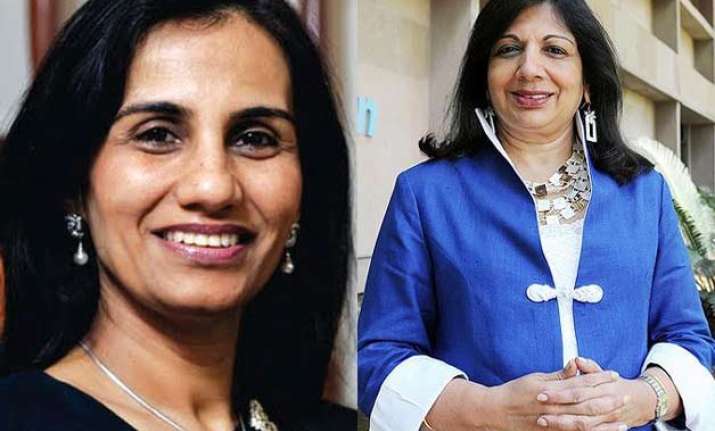 New Delhi: Six Indians including Arundhati Bhattarcharyya, Chairman, State Bank of India and Biocon founder Kiran Mazumdar Shaw figure in the Forbes's 2015 list of Asia's 50 Power Businesswomen.
Apart from Bhattacharya and Shaw, other Indians in the list are: Akhila Srinivasan, managing director of Shriram Life Insurance/Shriram Capital; Chanda Kochhar, managing director and CEO of ICICI Bank; Shika Sharma, managing director and CEO of Axis Bank; and Usha Sangwan, managing director of Life Insurance Corporation of India.
Other than the six Indians, in this year's list, China's Alibaba made history by becoming the first company to have two of its decision-makers making the grade: Maggie Wu, the online giant's chief financial officer, and Lucy Peng, Alibaba's co-founder.
For the very first time, women from emerging economies Mongolia and Myanmar made it to the list. The list also includes women achievers from Taiwan, Singapore, Indonesia and Australia.
The Forbes referred Bhattacharya, 58, as the first lady of Indian banking, chairs State Bank of India, "a behemoth with 225 million customers and assets of $300 billion". "Bhattacharya offers employees at SBI the option of a 2-year sabbatical to take care of children and parents."
As for Shaw, 61, it said "India's biotech queen built Biocon from a garage startup into India's largest publicly traded biopharma firm, with $480 million in sales, mostly in low-cost drugs for diseases such as diabetes and cancer". It also mentioned that Shaw sits on the board of IT giant Infosys and chairs the board of governors of the Indian Institute of Management, Bangalore.
Describing Kochhar, 53, as India's second-most-powerful banker (after Arundhati Bhattacharya), Forbes said she has been boss of ICICI, the country's biggest lender in the private sector, with assets of $100 billion, for six years. "She has overseen a retail expansion into the rural heartland; more than 10 percent of ICICI's 3,850 branches are in previously unbanked areas. Kochhar is now aiming at capturing younger customers with Pockets, a mobile and online service," the magazine noted.
As per Forbes, to make the cut, candidates had to be active in the upper echelons of the business world in Asia, wield significant power and have access to robust financial resources.