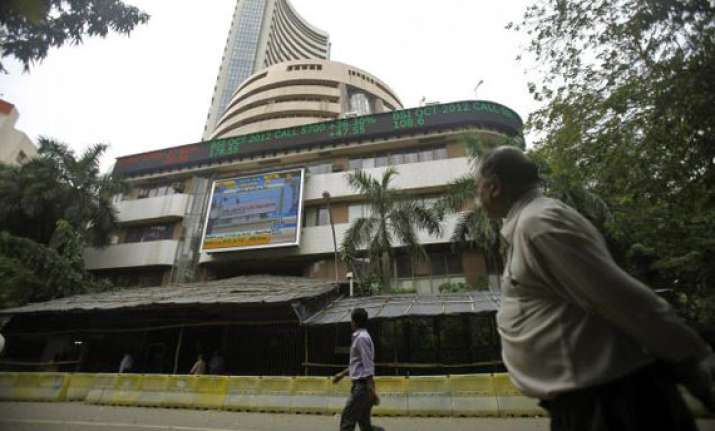 Mumbai:  The Sensex rose 14 points to an almost two-week high today after a choppy session as talks on the US budget and debt limit continued without any indication of a resolution.
The index, which was boosted by heavyweights Reliance Industries, Tata Motors and ITC, erased gains of as much as 150 points. It was dragged lower by Infosys and ICICI Bank.
Realty and auto shares gained on the BSE as seven of the 13 sectoral indices rose. Stocks of auto and consumer durables companies advanced after the government decided to infuse funds to enable PSU banks to offer cheaper retail loans.
Jet Airways, which won cabinet approval to sell 24 per cent equity to Abu Dhabi-based Etihad Airways, ended 0.54 per cent lower at Rs 384.50 after soaring to Rs 414.70.
The benchmark S&P BSE Sensex opened lower than the previous close and dropped to 19,833.17. It recovered to the day's high of 20,052.00 but was unable to sustain the gains.
It finally ended at 19,915.95, rising 13.88 points or 0.07 per cent. It was the highest closing since September 24. Over the past week, the Sensex has gained 188.68 points or 0.96 per cent.
The CNX Nifty index on the National Stock Exchange was little changed, down 2.4 points, or 0.04 per cent, at 5,907.30. The SX40 index on the MCX Stock Exchange ended at 11,852.38, down 0.89 points.
"Over the next couple of weeks, we expect the market to respond to developments related to the US budget deadline and debt ceiling," said Dipen Shah, Head of PCG Research at Kotak Securities. "There could be volatility around these events."
Sentiment was partly affected after an HSBC survey showed private sector activity contracted at the fastest pace in four and a half years in September. The Planning Commission said it will revisit the annual average growth target of 8 per cent for the 12th Plan period and indicated GDP may expand by over 5 per cent this fiscal.
Asian stock markets fell amid uncertainty about the duration of the US government shutdown.
Japan's Nikkei 225 index fell 0.94 per cent, Hong Kong's Hang Seng lost 0.33 per cent, South Korea's Kospi fell 0.12 per cent and Singapore's Straits Times dropped 0.21 per cent.
In the domestic market, 15 Sensex shares advanced, led by Coal India (2.46 pc), Hindalco (2.08 pc), Tata Motors (1.44 pc), Bharti Airtel (1.2 pc) and Maruti Suzuki (1.1 pc).
Losers on the index included Dr Reddy's Laboratories, which fell 2.49 pc, followed by Jindal Steel 1.77 pc, Larsen 0.97 pc, NTPC 0.94 pc and ICICI Bank 0.79 pc.
Among the sectoral indices, S&P BSE Realty firmed up 1.65 pc, followed by S&P BSE Auto 0.94 pc, S&P BSE Metal 0.63 pc and S&P BSE Oil&Gas 0.46 pc. The S&P BSE Power index and S&P BSE-Capital Goods index both fell 0.49 pc.
The mid-cap and small-cap indices moved up by 0.27 pc and 0.49 pc, respectively.
The market breadth remained positive as 1,223 stocks ended with gains and 1,139 closed lower. Total turnover declined to Rs 1,872.73 crore from Rs 1,893.76 crore yesterday.