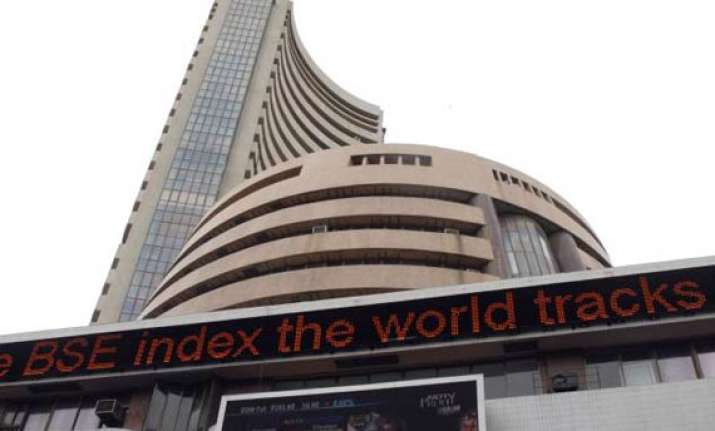 Mumbai, Dec 19: The BSE Sensex fell to 28-month low today at 15,379.34, down 112 points on heavy selling for the fourth day in a row on persisting concerns over slowing growth and weakening rupee amid declining global markets.

After losing 511 points in the past three sessions, the BSE 30-scrip index opened lower and dropped sharply to 15,190.  It recovered some ground but still ended the day 0.72 per cent down from Friday's close. Sensex has sunk 26 per cent so far this year.

The 50-scrip NSE index Nifty fell 38.50 points or 0.83 per cent to end at 4,613.10.

FIIs continued to sell shares. They sold equities worth Rs 220.25 crore on Friday, as per provisional data from the stock exchanges.

Analysts said investors are wary of slowdown in economic growth, falling rupee and tight liquidity.

"The selloff continued unabated and bears had another field day. RBI's caution on Friday about slow economic growth has led to the jittery sentiments on the bourses," said Shanu Goel Senior Research Analyst at Bonanza Portfolio.

"Banking stocks led the fall as the sentiments worsened on RBI's decision to keep the CRR unchanged. Negative openings in European markets added to the woes," she added.

Global cues remained weak on investor worries over the euro-zone debt crisis. Asian markets were down also due to some anxiety in the region after the death of North Korean leader Kim Jong-il.

Key indices in China, Hong Kong, Japan, Taiwan, Singapore and South Korean fell by up to 3.43 per cent.

Parag Doctor, Associate VP at Motilal Oswal Securities said, meanwhile, "There was last hour buying in the market due to bounce back in European markets. European debt crisis, government delay in policy implementation and concern of lower growth is troubling the market, which is why sentiments have turned cautious."

After weak openings, European stocks was trading slightly higher, with key indice in France, Germany and the UK up between 0.49 per cent and 0.22 per cent.

Of the 30 Sensex scrips, 21 ended with losses, while eight finished higher. Wipro closed unchanged.

Major losers were L&T (4.06 per cent), Bhel (3.70 pc), Jindal Steel (3.32 pc), DLF (3.05 pc), SBI (2.91 pc), ICICI Bank (2.80 pc), Tata Power (2.44 pc), HDFC Bank (2.38 pc), Jaiprakash (2.03 pc), Maruti Suzuki (1.91 pc), Infosys (1.58 pc), Sun Pharma (1.24 pc), Hero MotoCorp (1.15 pc), ONGC (1.13 pc) and M&M (1.04 pc).

However, Tata Motors shot up 4.44 per cent, followed by Cipla (1.89 pc), Reliance Industries (1.78 pc), Hul (1.07 pc) and ITC (0.95 pc).

Among the sectoral indices, the BSE-Capital Goods fell 3.48 pc, Bankex - 3.08 pct, Realty - 2.89 pc, Power - 1.60 pc and PSU - 1.59 pc.

The total market breadth on the BSE remained negative as 2,066 stocks ended with losses, while 726 finished with gains.

The total turnover declined to Rs 1,844.17 crore, from last Friday's level of Rs 2,187.93 crore.