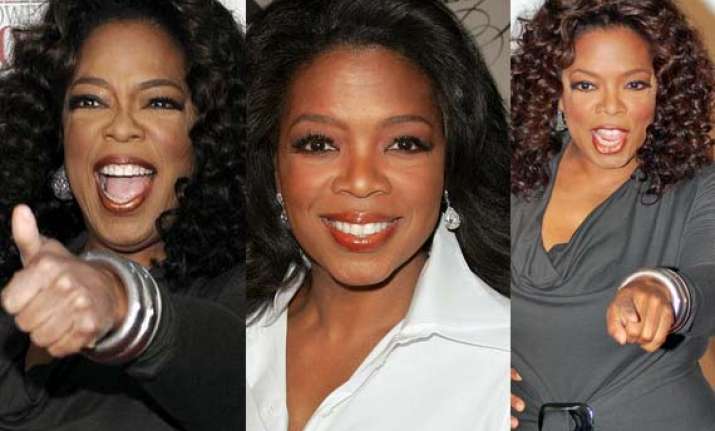 New Delhi: Media mogul Oprah Winfrey, considered by some to be the most influential talk show host and woman in the world, was born on January 29, 1954 on the family farm in Kosciusko, Mississippi. Her dad, Vermon Winfrey, who was stationed as a solider at a local base; and her mother, Vernita Lee, were both young at the time of Oprah's birth. Her parents never married.
She was born into a Baptist family and her mother, Vernita Lee, originally wanted her name to be Orpah, a name from the Bible, but she accidentally misspelled her name and spelled it Oprah, but her Dad, Vernon Winfrey, liked it so she was named Oprah Gail Winfrey.
Oprah was a bright and popular child right from her childhood. She was an honors student and she was voted most popular girl. She was successful academically too. She joined the school's speech team and placed second at a national competition. Her skills of being an incredible speaker won her first place at an Oratory contest and earned a scholarship to Tennessee State University.
Her good speaking skills also led to her winning a job as the first African American female co-anchor at the age of nineteen. After graduating from Tennessee State University in 1976 with a degree in communications, she stepped into the field of news anchoring. Her first place as a new news anchor was in Baltimore as the co anchor of the six o'clock news. Then she was recruited to the local talk show People Are Talking, and she hosted the local version of Dialing for Dollars there, too.
Her anchoring skills led her to become the head anchor of AM Chicago which in 1985, was renamed the Oprah Winfrey Show.
By the next year, the show was broadcast nationally. It soon became the number one talk show in America. Now she has fully transformed into the Oprah Winfrey that we know today.
Her accolades are not limited to news anchoring only. She has been ranked the richest African-American of the 20th century, the greatest black philanthropist in American history, and was for a time the world's only black billionaire. She is also, according to some assessments, the most influential woman in the world.
Ladies Home Journal also ranked Winfrey number one in their list of the most powerful women in America and in 1998 Winfrey became the first woman and first African-American to top Entertainment Weekly's list of the 101 most powerful people in the entertainment industry. Forbes named her the world's most powerful celebrity in 2005,2007,2008 and 2010 In 2010, Life magazine named Winfrey one of the 100 people who changed the world, alongside such luminaries as Elvis Presley and Lady Mary Wortley Montagu. Winfrey was the only living woman to make the list.
Experts often call her an alpahe female: "a decision-maker who is committed to her goals and dreams. She may be opinionated and unafraid to speak her mind, but she is considerate, open-minded, and respectful of others. She is always ready to learn and willing to take on any challenge. Most importantly, she is dedicated to growing as a person, as a valuable and contributive member of society."
According to Gallup's annual most admired poll, Americans consistently rank Winfrey as one of the most admired women in the world. Her highest rating came in 2007, when she was statistically tied with Hillary Clinton for first place. In a list compiled by the British magazine New Statesman in September 2010, She was voted 38th in the list of "The World's 50 Most Influential Figures 2010".
Here are some images that shows her journey from childhood to one of most influential personalities in the world media and entertainment business.
Oprah as a young child.