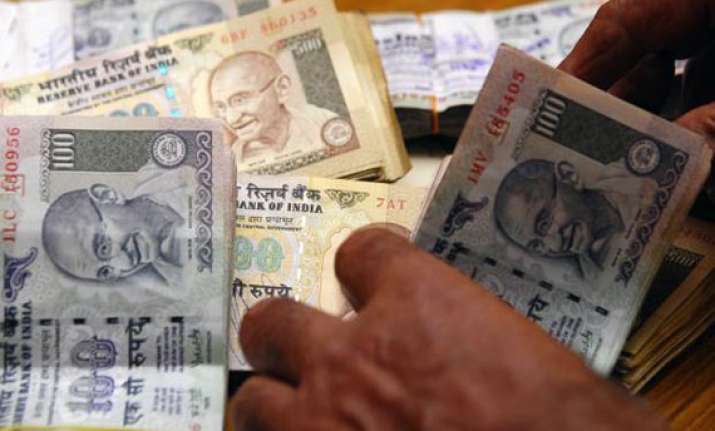 Mumbai: The rupee appreciated by a further 73 paise to close at an almost seven-week high of 61.73 against the dollar today as the US currency weakened globally following the budget impasse in Washington and fears of the Fed tapering its stimulus programme receded.  Dollar sales by exporters and firm local equities also supported the local currency.
The rupee opened at 62.15 a dollar from the previous close of 62.46 at the interbank foreign exchange market and touched a low of 62.22. It bounced back to a high of 61.65 before settling at 61.73, a rise of 73 paise or 1.17 per cent.  
The rupee was at the highest level since August 16, when it closed at 61.65 against the dollar. Finance Minister P Chidambaram has said the value of the rupee based on the real effective exchange rate was 59-60 to a dollar.
"The gains were mainly attributed to the sharp weakness in the US dollar index and strength in the euro," said Abhishek Goenka, CEO of India Forex Advisors. "The US dollar weakened globally following a failure by US lawmakers to resolve a budget impasse."
The 30-share S&P BSE Sensex shot up 384.92 points or 1.97 per cent as the partial US government shutdown eased investor concerns about a tapering of the Federal Reserve's stimulus programme. Foreign institutional investors pulled out a net Rs 106.97 crore of shares on Tuesday, according to provisional data with the stock exchanges.
The dollar index, a gauge of six major global rivals, was down by 0.07 per cent.
"The trading range for the USD-INR pair is expected to be within 61.00 to 62.80," said Pramit Brahmbhatt, CEO of Alpari Financial Services (India).
Forward dollar premiums dropped on sustained receipts by exporters.
The benchmark six-month forward dollar premium payable in March tumbled to 254-257 paise from 268-272 paise previously and far-forward contracts maturing in September fell to 468-472 paise from 486-491 paise.
The RBI fixed the reference rate for the dollar at 61.9348 and for the euro at 84.2360.
The rupee bounced back to 100.03 against the pound from Tuesday's close of 101.37 and recovered to 83.97 against the euro from 84.60.
It shot up further against the Japanese yen to 63.16 per 100 yen from 63.92.