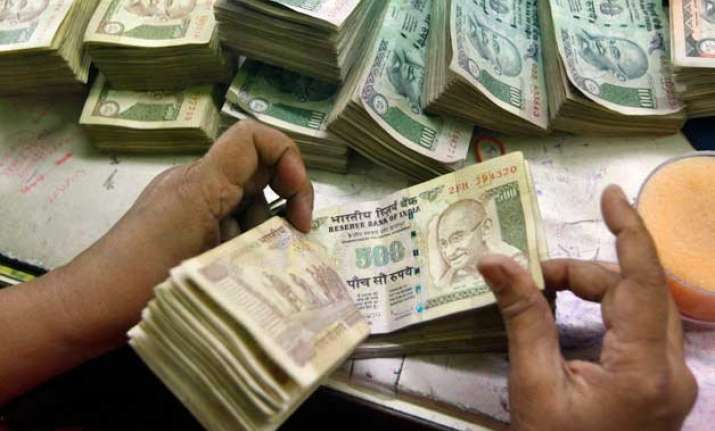 Mumbai: The rupee recovered from more-than three months low of 63.15 in early trade on dollar selling by banks, believed to be on RBI instruction, to settle six paise higher at 62.85 against the US currency.
Forex dealers said "there were inflows from FIIs and FPIs to buy Japanse drug major Daiichi's nearly 9 per cent stake, estimated at Rs 20,420 crore, in Sun Pharmaceutical".
However, sluggish local equities amid sustained capital outflows and strong dollar overseas restricted the rupee rise to a major extent.
At the Interbank Foreign Exchange market, the rupee resumed sharply weaker at 63.15 from previous closing of 62.91 and immediately touched low of 63.1550-level, not seen since January 8, when it had touched an intraday low of 63.20.
"At 63.10 we saw some nationalised banks (on behalf of RBI) in the market to smoothen volatility. There were also inflows in the market due which there was dollar selling in the market by foreign banks, which helped the rupee to recover," said a dealer with a private sector bank.
It later gradually recovered on dollar selling by some banks and exporters to a high of 62.74 before settling at 62.85, logging a small gain of six paise or 0.10 per cent. In last two days, it had plunged by 61 paise or 0.98 per cent.
The benchmark BSE Sensex today dipped by 210.17 points or 0.75 per cent today, while Foreign Portfolio Investors pulled out USD 227.52 million yesterday, taking a total to USD 485.68 million in last four sessions as per Sebi data.
The dollar index was up by 0.33 per cent against a basket of six major global currencies.
In the New York market, the euro traded lower against the dollar yesterday after concerns that debt negotiations between Greek officials and the Mediterranean country's creditors have yielded little progress.