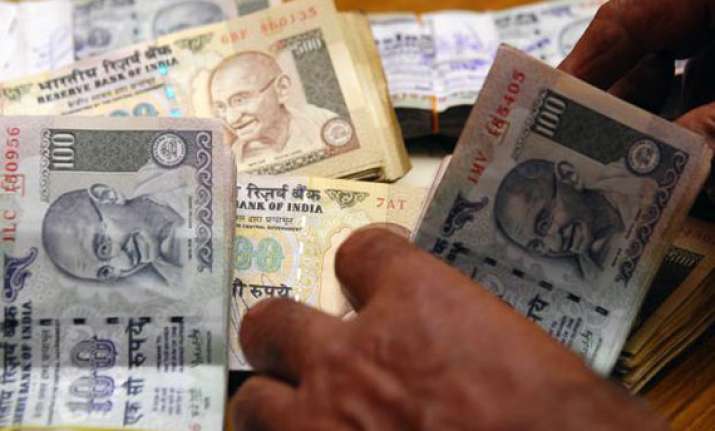 Mumbai: The rupee today rose by 30 paise, its biggest single-day gain in a week, to close at over 11-month peak of 58.47 against dollar following renewed selling of the US currency by exporters and a recovery in local equities.
A firm dollar overseas and mild capital outflows capped the rupee rise today after it depreciated by 18 paise in previous two sessions, said a forex dealer.  The rupee commenced strong at 58.67 a dollar at the Interbank Foreign Exchange (Forex) market from last close of 58.77 and immediately touched a low of 58.69.  
It later rebounded on fresh dollar selling by exporters and firm domestic equities to a high of 58.41, before ending at 58.47 -- a rise of 30 paise or 0.51 per cent. This is its highest level since it closed at 57.87 on June 17, 2013.  The rupee's 30 paise gain is its biggest rise since it appreciated by 39 paise on May 15.
Build up of large positions by dealers on hopes of revival of economy after a landslide victory by BJP-led NDA government in recent Lok Sabha elections has made the rupee surge, a forex analyst said.
The dollar index was last up 0.09 pct against a basket of six major global rivals.
Meanwhile, the Indian benchmark S&P BSE Sensex today rebounded by 76.38 points, or 0.31 per cent, while FIIs pulled out Rs 295 crore today, as per provisional exchange data.  Pramit Brahmbhatt, Veracity Group CEO said, "Rupee is heading towards its fourth weekly gain in a row. It is expected that central bank would intervene near the 58 level." Meanwhile, premium for forward dollar moved down further on sustained receipts by exporters.
The benchmark six-month premium payable in October eased to 201.5-203.5 paise from last close of 203.5-205.5 paise.  Far-forward contracts maturing in April, 2015 also slipped to 419-421 paise from 420.5-422.5 paise.  
The Reserve Bank of India fixed the reference rate for dollar at 58.5740 and for the euro at 80.0500.  The rupee also recovered against the pound to 98.64 from 99.30 previously. It rose to 79.93 per euro from 80.37. The rupee firmed up to 57.54 per 100 Japanese yen from 58.14.