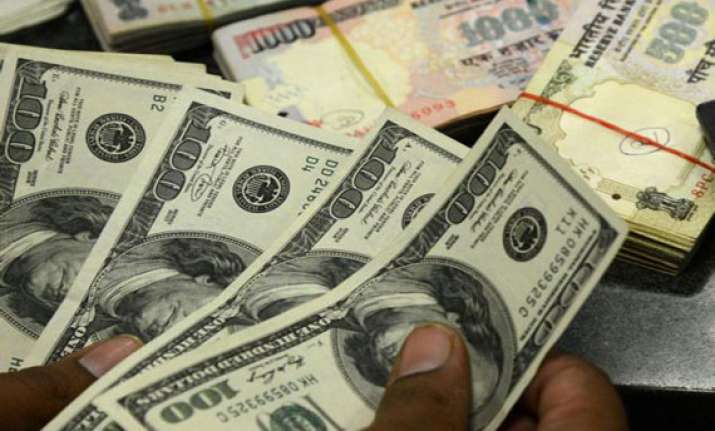 Mumbai: The rupee had its biggest gain in two weeks, rising 60 paise to 61.23 against the dollar today, after US lawmakers reached a deal to end the government shutdown and temporarily avoid a debt default.  Fresh dollar sales by exporters amid sustained capital inflows also boosted sentiment, helping the local currency to end two days of losses.
At the interbank foreign exchange market, the rupee opened at 61.54 a dollar from the previous close of 61.83.  It moved in a range of 61.21 to 61.73 before ending at 61.23, a rise of 60 paise or 0.97 per cent. The rupee had gained 73 paise to 61.73 on October 3.  
The dollar index, consisting of six major global rivals, was down 0.80 per cent as concerns turned to the impact of the standoff in Washington after US lawmakers reached a deal.  "The rupee was seen trading on a stronger note against the US dollar as last-minute deal in the US helped uplift the sentiments in the global markets," said Abhishek Goenka, CEO of India Forex Advisors.
"The dollar was seen weakening...and if it does not show a sustained recovery in the coming few days, then we might see rupee continuing with its gains." Goenka also said S&P estimated the US may lose as much as 0.6 per cent of GDP in the fourth quarter due to the standoff.  
This has led to speculation that the Federal Reserve may maintain its stimulus programme up to even March, he said.  The 30-share S&P BSE Sensex closed down 132 points on profit booking in IT stocks.
Foreign institutional investors bought a net Rs 1,136.23 crore of shares yesterday, according to provisional data with the stock exchanges.  
"Dollar came under pressure, along with European shares, as US budget deal gave way to worries over the economic impact of the 16-day government shutdown and prospects of a re-run early next year," said Pramit Brahmbhatt, CEO of Alpari Financial Services India. "Chinese credit agency Dagong downgraded the US sovereign rating...driving further dollar losses."