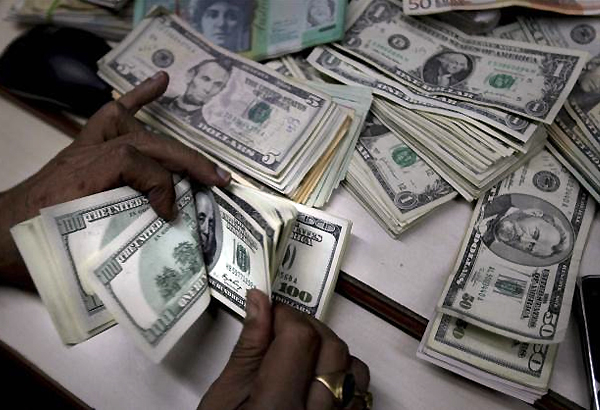 Mumbai, May 11: The rupee today declined by 21 paise to complete six straight weeks of losses—the longest losing streak since the global financial meltdown in 2008-- after a disappointing factory output in March fueled worries of sagging economy.




Fresh dollar demand from from importers, mainly from oil refiners after a strong US currency in overseas weighed on the rupee, even as RBI had announced a series of measures yesterday to prop up the domestic unit, a dealer said.

At the Interbank Foreign Exchange (Forex) market, the rupee had touched a high of 53.39 in early trade. However, weakness in local stocks pulled it down to a low of 53.70 before closing at 53.63 per dollar, a fall of 21 paise over the last close. Yesterday, it had gained 42 paise.

T S Srinivasan, GM (Treasury) of Indian Overseas Bank said, "The fundamentals continue to be weak to give any support to the rupee. The IIP numbers, that came out today, are again disappointing. So I feel, rupee will remain weak in the near-term."

He, however, said the market expects the government to come up with some concrete policy measures to lift the sentiment in the coming weeks.

"The entire market is interpreting the circular issued by RBI (relating to Exchange Earners' Foreign Currency Account (EEFC)). I think, rupee will rebound to Rs 52.80 level in the next fortnight due to the addition of liquidity in the system," IDBI Bank Treasury Head N S Venkatesh said.

In the near-term, rupee will stay in the range of Rs 52.80-Rs 53.50 level and do not expect it to breach Rs 54 level, he added.

Regarding RBI intervention, he said the central bank would intervene whenever there is volatility.

The BSE benchmark Sensex today dipped by 127.07 points, stretching losses for the fourth day in a row.

The dollar index was up by 0.06 per cent against a basket of currencies as traders preferred to buy dollar rather than going to riskier assets like stocks, which are now showing sluggish trend globally.

Alpari Financial Services (India) CEO Pramit Brahmbhatt said rising oil demand and compulsory payments by importers along with appreciation in dollar value has been weighing on rupee strengths.

Abhishek Goenka, CEO, India Forex Advisors says, "The IIP data has disappointed the market again, with numbers coming way below expectations."

Reflecting investment deficit, industrial production fell 3.5 per cent in March, for the first time in five months, official data showed.

After the disappointing IIP figure, market is waiting for inflation numbers, which are going to be released in next week, Goenka said.

Indian economy is already going through turmoil, with falling stock markets, widening current account deficit, and the FII outflows and thereby leading to the devaluation of the Indian currency, which has fallen over 19 per cent in the past one year, he said.

The rupee premium for the forward dollar remained weak on sustained receivings by exporters.

The benchmark six-month forward dollar premium payable in October ended lower at 156-158 paise from Thursday's close of 160-162 paise and far-forward contracts maturing in April also finished down at 267-269 paise from 277-279 paise.

The RBI fixed the reference rate for the US dollar at 53.6410 and for euro at 69.2880.

The rupee softened to 86.40/42 against the pound sterling from 86.39/41 yesterday and also fell back against the euro to 69.38/40 from 69.16/18. It too reacted downwards against the Japanese yen to 67.10/12 per 100 yen from last close of 66.97/99.