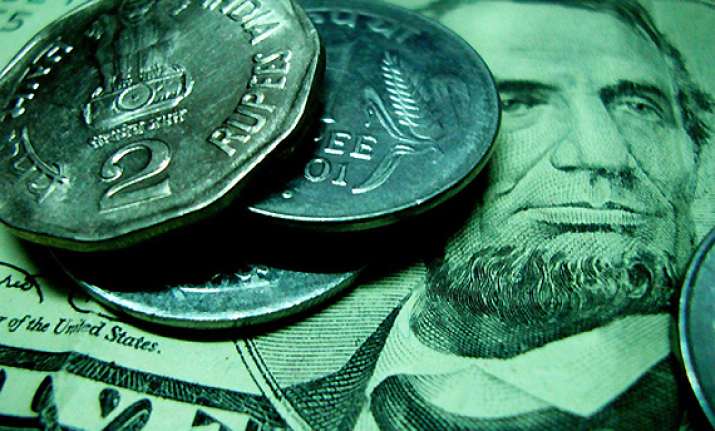 Mumbai, Oct 31: Recovering from its early losses, the rupee today closed at more-than five-week high of 48.69/70 against the US currency, higher by 7 paise, on sustained dollar selling by exporters amid increased capital inflows. 

At the Interbank foreign Exchange (Forex) market, the domestic unit opened just stable at 48.77/78 a dollar from last Friday's close of 48.76/77 and immediately touched a low of 48.90 on fall in local stocks and firm dollar overseas. 

However, it bounced back to a high of 48.61 on late dollar selling by exporters and some banks and continued portfolio investments by foreign funds.  Finally, it settled better at 48.69/70. In the last four trading sessions, it has spurted by 132 paise or 2.64 percent. 

The BSE benchmark Sensex fell by almost 100 points or 0.56 per cent today, capping the rupee rise to certain extent. 

The dollar index, a gauge of six major currencies, was up by nearly 1.1 per cent while New York crude oil was trading below USD 93 a barrel in European market today. 

"FII inflows in local equities amid late rebound in Euro helped the rupee to recover early losses and closed better.  Looking at the strong dollar one can expect rupee to trade near 49.00 levels and the trading range for the USD/INR will be 48.50 to 49.00 tomorrow," Pramit Brahmbhatt, CEO, Alpari Financial Services (India) said.

In the Sydney market, Japan intervened in the currency markets to weaken the yen and sold an undisclosed amount of yen on the foreign exchange market, sending the US Dollar and euro climbing sharply against the currency. 

FIIs injected USD 483.47 million on October 28 as per SEBI data, taking a total to USD 604.42 million in last week. 

"The current rise in the rupee is mainly on account of superficial positive sentiment in the global economy with some concrete solution for the European crisis in sight, probably proving to be an illusion. Unless and until these sources are made clear all such positive sentiments are temporary with our target remaining firm at 50 again for rupee," Abhishek Goenka, CEO, India Forex Advisors said. 

The rupee premium for the forward dollar remained firm on sustained paying pressure from banks and corporates.  The benchmark six-month forward dollar premium payable in April closed up at 114-1/2-116-1/2 paise from last weekend's close of 108-111 paise and far-forward contracts maturing in October also settled higher at 169-171 paise from 159-1/2-161-1/2 paise previously.

The RBI fixed the reference rate for the US dollar at Rs 48.8730 and for the euro at Rs 68.3616.  The rupee shot up further against the pound sterling to end at Rs 77.90/92 from last Friday's close of Rs 78.51/53.  It flared up further against the Japanese yen to conclude at Rs 62.50/52 per 100 yen from Rs 64.34/36 previously as Japan intervened in overseas currency markets to keep the yen under pressure.

It also rose sharply to Rs 68.16/18 per euro from last close of Rs 68.99/69.01.