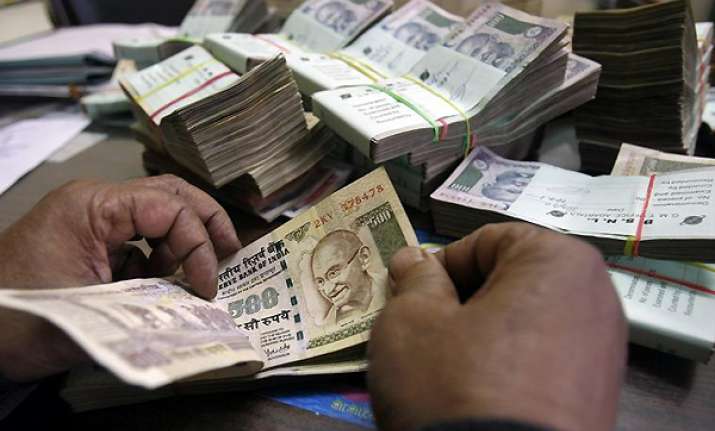 Mumbai, Jan 2: The rupee today lost 20 paise to close at a fresh two-week low of 53.30/31, ending the first day trading of the new year on a subdued note .

Foreign exchange dealers said sustained dollar demand from importers weighed against the rupee sentiment.
 
The local currency moved between 53.12 and 53.40 at the Interbank Foreign Exchange (Forex) market before settling the day at 53.30/31, or 0.38 per cent, down 20 paise over the previous close.

Meanwhile, BSE benchmark index Sensex ended up by 63 points at 15.517.92 today.

Dealers said increased demand for the dollar from importers and concerns over the government's widening fiscal deficit mainly weighed on the rupee sentiment.
 
In the year 2011, rupee has crashed by Rs 8.4, or 18.79 per cent.

"Rupee ended weak today on demand for dollars from importers. In global markets where dollar traded lower against the major currencies. Local equities also traded range bound and closed in green," Alpari Financial Services (India) CEO Pramit Brahmbhatt said.

The dollar index was down by nearly 0.25 per cent against a basket of currencies, while New York crude was trading just above USD 99 a barrel in the European markets.
 
The rupee premium for the forward dollar recovered moderately on stray paying pressure from banks and importers.

The benchmark six-month forward dollar premium payable in June rose to 163-165 paise from last weekend's end of 162-164 paise and far-forward contracts maturing in December also settled slightly higher at 267-1/2-269-1/2 paise in the previous session.

RBI fixed the reference rate for the US dollar at Rs 53.2975 and for the euro at Rs 68.9095.

The rupee dropped further against the pound sterling to end at Rs 82.62/64 from last Friday's close of Rs 82.04/06 and also remained weak against the euro to end at Rs 69.02/04 from Rs 68.74/76 previously.

It also dipped against the Japanese yen to Rs 69.31/33 per 100 yen from last close of Rs 68.64/66.