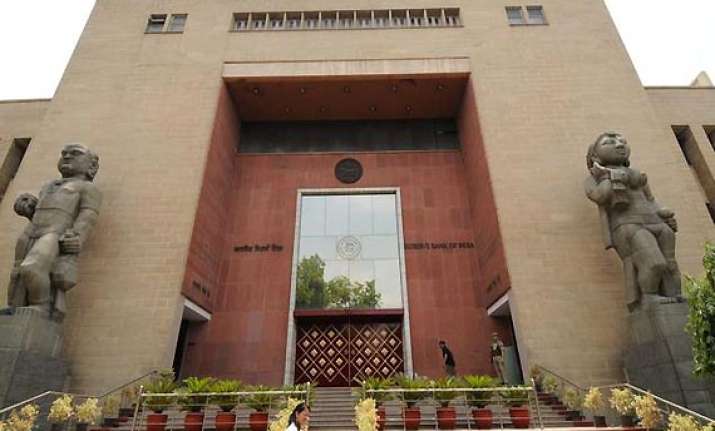 Mumbai, Jun 3: The Reserve Bank today said in- principle approval for setting up of new banks will now be valid for 18 months, up from earlier proposed one year.
Issuing clarification to queries on new bank licences, the RBI said the companies which would be eligible to apply must have a public shareholding of at least 51 per cent.
"..Companies forming part of the Promoter Group whereof companies in which the public hold not less than 51 per cent of the voting equity shares shall hold not less than 51 per cent of the total voting equity shares of the NOFHC (holding company)", it said.
Besides, the intending applicants would have to approach other regulators to bring in entities regulated by them under the bank holding company, the RBI said.
It further said only non-financial services companies and non-operative financial holding companies in the promoter Group would be allowed to hold shares in the holding company.
Coming out with guidelines on new bank licences in February, the RBI had said corporates and public sector entities with sound credentials, Rs 500 crore capital and a minimum track record of 10 years would be allowed to enter the banking business.
The norms issued by the RBI after a gap of more than a decade is expected to see companies like Mahindra & Mahindra, Tatas, Anil Ambani Group and Religare queuing up for a bank licence.
The RBI said that most of the queries it received pertained to provisions on eligible promoters, 'fit and proper' criteria, foreign shareholding, on transition time to the new structure and corporate structure of the NOFHC among others.
It said the queries received from applicants brought out several complex issues pertaining to re-organisation of the existing corporate structure, restructuring of business and meeting the regulatory requirements.
In order to provide more time for a smooth transition from the existing structure to that prescribed in the guidelines, the RBI said it has been decided to extend the validity period of the in-principle approval from one year to 18 months.
"This would provide sufficient time for the promoter group to comply with the various stipulations in the guidelines and the terms and conditions that would be set out while granting the in-principle approvals to successful applicants," the RBI said.
'Not possible to give bank permits to all eligible seekers'
Making it tougher for aspirants, the Reserve Bank today said it will look for very high quality applications to issue new bank permits and may not be possible to issue licences to all eligible applicants.
"There is no predetermined number. RBI will be very selective while considering the applications for new bank licences. It will look for very high quality applications," the RBI said in a notification elaborating its response to the queries raised by various stake holders.
"It may, therefore, be not possible to issue licence to all the applicants meeting the eligibility criteria," it said.
On timeline for granting in-principle approval for bank licence, RBI said: "It will not be possible to indicate the timeline for grant of in-principle approvals at this stage."
The RBI, which had on February 22 issued final guidelines for issuing new banking licences, today came up with clarifications to various queries, as many as 443 from 39 entities, raised by prospective licence seekers.
Applicants have to submit their applications by July 1 for evaluation to get new bank licence, it said, even as it extended the validity of in-principle licence nod from 12 months to 18 months.