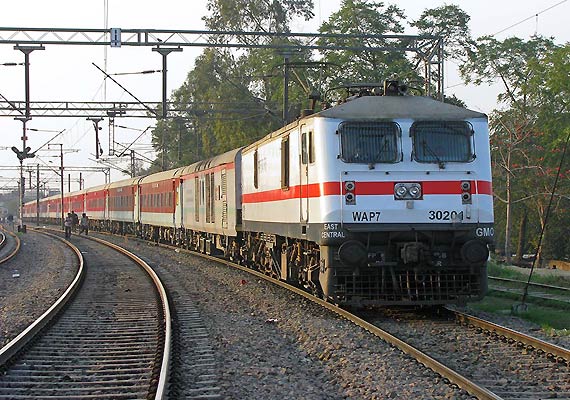 New Delhi, Feb 17: Railway Minister Dinesh Trivedi today cautioned railway could go the Air India way if money was not pumped in the cash-strapped national transporter, as an official committee proposed cess to generate money to upgrade safety mechanism.

Trivedi said government should "prioritise" its focus while considering railways' financial condition as it adds to the GDP and directly affects the common man.  "I am afraid it (Indian Railways) can go Air India's way," he told reporters here while reminding of the government's bail-out to Air India.

Trivedi said "government must sincerely consider helping railways at least on the safety issues" which he contended has been compromised due to its financial position.

The Railway Minister's comments came on a day when a high-level safety review committee set up by him concluded in its report that railways is on "the brink of collapse" and suggested a slew of measures including imposing safety cess on passengers to meet the upgradation expenditure and curtail introduction new trains.

The Kakodkar committee said railways' finances were on the "brink of collapse" and advocated against introduction new trains as line capacity has been "severely constrained" due to addition of more and more services year on year.

The committee in its report has suggested an investment of Rs 1 lakh crore to upgrade its safety-related infrastructure, especially focusing on the 19,000km high density trunk route.

Statistics indicate railways is almost running in a negative zone and a high operating ratio which is hovering around 100 per cent.

Hundred per cent operating ratio means railways earnings are less than it expenditures.

Highlighting the poor financial health, the committee with E Sreedharan as advisor, particularly underlined the passenger fares which have remained untouched for a decade despite introduction of more and more passenger services on the "existing overloaded infrastructure".

This has strained the infrastructure way beyond its limit and all the safety margins have been eaten up pushing Indian Railways to a "regime of adhocism" in infrastructure maintenance, the safety panel noted.

"The Committee, therefore, strongly recommends to stop such practice of introduction of new trains without commensurate inputs to the infrastructure," it suggested.  Trivedi, however, said they would have to do a "balancing act" on the issue as Railways need to keep in mind the wishes of various states.

Contending that necessary time for infrastructure maintenance is getting compromised and workmen casualty was on rise due to scarce maintenance period, the committee recommended advanced signalling system akin to European train control system Level-II.

Its focus was, however, on the 19,000 km busy trunk routes which accounts for bulk of the railways traffic and suggested a massive investment of Rs one lakh crore over a five year period for infrastructure upgrading.

The Kakodkar committee has suggested far reaching changes in its infrastructure, seeking Rs 1 lakh crore investment which included mopping up Rs 5,000 crore as safety cess from passengers, and no new trains.

Trivedi who received the report appeared unwilling to impose any additional burden on the passengers in the form of safety cess.

"These are all suggestions by the committee. We have not decided yet," he said indicating there are several other ways to generate revenue to implement safety committee report.