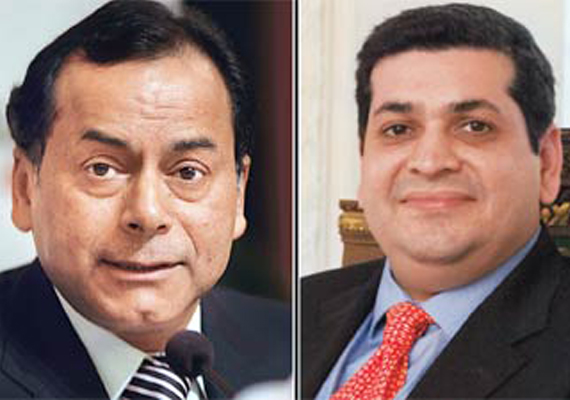 New Delhi, Mar 31: Three months after summonses were issued against them in a case flowing out of the 2G spectrum allocation scam, promoters of Essar Group and Loop Telecom today appeared before a Delhi court for the first time and moved their bail applications.
Essar group promoters Ravi Ruia and Anshuman Ruia and Loop Telecom promoters I P Khaitan and Kiran Khaitan appeared before Special CBI Judge O P Saini, who fixed April 21 to hear their bail pleas.

"Put up for reply and arguments (on the bail pleas), if any, on April 21," the judge said after the CBI prosecutor pleaded for some time to file reply on their applications.

Vikas Saraf, Essar Group director (Strategy and Planning), who is also named as an accused in the CBI's third charge sheet filed on December 12 last year, had appeared before the court on February 22 and his bail application will also be heard on April 21.

The court had on March 17 warned the promoters of Essar Group and Loop Telecom to appear before it in their own interest.

Senior advocate Mukul Rohatgi, appearing for Ruias, said that they were ready to argue on the charges levelled against them in the charge sheet.

"I am willing to argue on charges because the hearing in the Supreme Court (regarding jurisdiction of the special court in taking cognizance of the charge sheet) will take time. We are ready to advance our arguments on charges," Rohatgi said.

The court, however, said that they could come prepared to argue on the charges on April 21, the next date of hearing.  "Come prepared that day (April 21). Whatever has to happen  will happen. I know all this. I am a trial court judge," the special judge said.

They were first summoned by the court on December 22, last year after being charge sheeted in the case arising out of the probe in 2G scam.

Essar, which has denied any involvement in 2G case, has contended that the special court cannot proceed against them as they were not charged under the Prevention of Corruption Act.
The company' plea challenging the special court's jurisdiction to hear the case is pending in the Supreme Court and is likely to be heard on April 17.

The bench of apex court had said, "we would quash the proceedings if we come to the conclusion that the court has no jurisdiction to hear the case."

The CBI also named Loop Telecom Pvt Ltd, Loop Mobile India Ltd and Essar Tele Holding as accused and all of them have been charged with conspiracy and cheating the Department of Telecom (DoT) under the IPC.  CBI did not find enough evidence to prosecute them under the Prevention of Corruption Act.