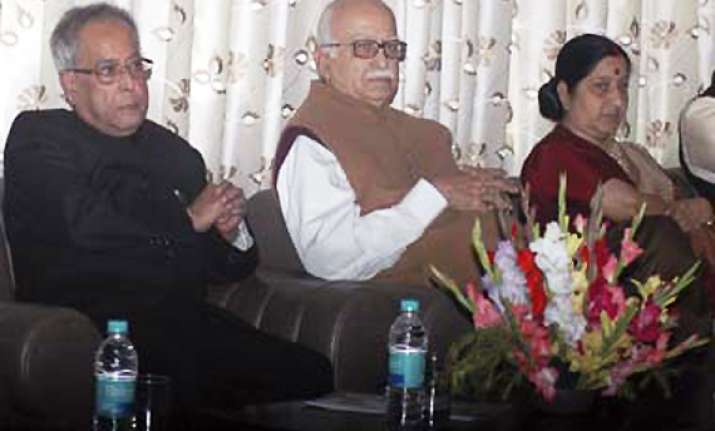 New Delhi, Mar 8: Union Finance Minister Pranab Mukherjee on Wednesday held a pre-budget meeting with leaders of opposition in both Houses and NDA Working Chairman L K Advani to seek their cooperation in smooth running of Parliament in the forthcoming session.

Leader of Opposition in Lok Sabha Sushma Swaraj, her Rajya Sabha counterpart Arun Jaitley and Advani met Mukherjee, who is also Leader of the House in Lok Sabha, in his North Block office here.

Sources said Mukherjee reached out to the main opposition to discuss contentious issues like Goods and Services Tax, Direct Tax Code and other matters on which the Treasury and the Opposition do not see eye to eye.

The issues were not discussed in detail but the opposition is understood to have broadly promised smooth sailing during the Presidential Address.

BJP and other opposition parties have stated that they will demand discussions on contentious issues like NCTC, alleged attack on the federal structure by the Centre, the release of Indian children by Norway authorities, repeated violation of the election model code of conduct by union ministers last month, among other issues.