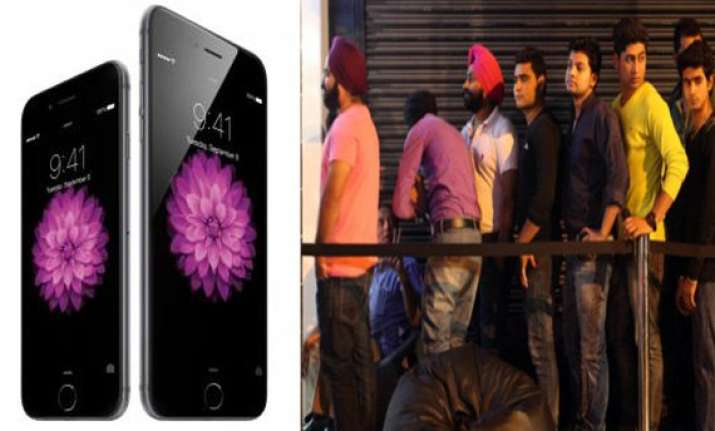 New Delhi: Apple iPhone 6 and iPhone 6 Plus have finally arrived in India and electronic retail stores across the country are offering it to customers right from the moment the clock struck 12am on October 17 .
Customers can pre-order both models beginning October 7 at 12:01 am at the major retail outlets of the Apple partners."
Authorised distributors of iPhone are Redington, Ingram Micro, Rashi Peripherals and Reliance.
Customers who'd pre-booked one of the two new iPhone models received their units, with stores staying open throughout the night to facilitate early birds. Long queue of people were seen in front of the stores, waiting to collect the iPhone.    
Apple's iPhone 6 series will be sold in India at starting price of Rs 53,500 and the high end model at Rs 80,500 during the time of launch. Both iPhone 6 and iPhone 6 plus come in three versions in terms of storage: 16 GB, 64 GB and 128 GB.
Earlier, Apple's authorised distributor Ingram Micro had announced that it will start pre-booking of latest iPhone 6 series from October 7. All the six models of iPhone 6 series will be available across retail stores from October 17.
"Prices of iPhone 6 shared with us is in the range of Rs 53,500 to Rs 80,500 per unit. For iPhone 6 16 GB, price is Rs 53,500, iPhone 6 64 GB for Rs 62,500, iPhone 6 128 GB will be for Rs 71,500. The three iPhone 6 plus models has been priced at Rs 62,500, Rs 71,500 and Rs 80,500 respectively," an authorised partner of Apple.
The official price of iPhone 6 is lower compared to the price at which vendors at e-commerce sell. Vendors through e-commerce have starting offering the premium smartphones at price starting from around Rs 56,000. They even claimed to have sold some units of iPhone 6 at this price.
However, iPhone 6 series in India is priced about 10 to 17% higher compared to its retail price in US. Amazon website showed that iPhone 6 is selling for around $750, including shipping cost, in US which amounts to about Rs 46,000.
E-commerce websites have also been taking pre-orders, promising delivery on launch day. Although Infibeam is the only Apple authorised iPhone reseller in India, Flipkart, Amazon and Snapdeal also allowed pre-orders of the iPhone 6 and iPhone 6 Plus.
The distribution firm said that pre-booking facility will be across its about 1,200 retail outlets in top 24 cities besides booking facility on its website.