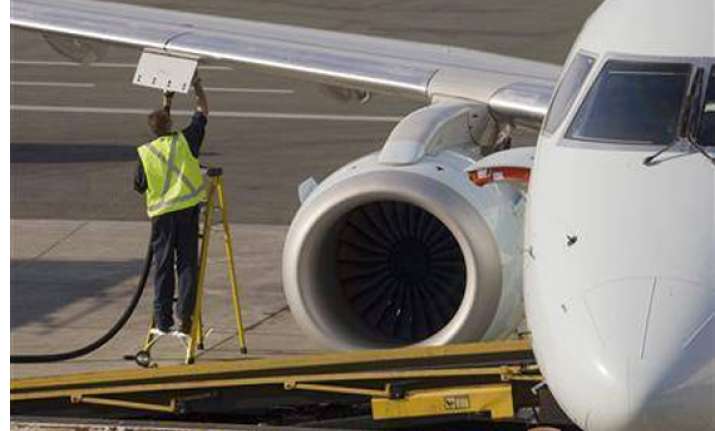 New Delhi, Jun 30:
In the second major relief to cash-strapped airlines this month, jet fuel (ATF) prices were today cut by about 2 per cent.
The price of aviation turbine fuel (ATF), or jet fuel, in Delhi was reduced by Rs 1,241 per kilolitre (kl), or 2 per cent, to Rs 61,169 per kl with effect from midnight tonight, according to Indian Oil Corp, the nation's largest oil firm.
The reduction comes on back of a massive 5 per cent (Rs 3,260 per kl) cut in rates effected from June 16.
This is the sixth straight cut in jet fuel rates since mid-April. State-owned oil firms had on June 1 slashed rates by 2 per cent (Rs 1,376.81 per kl) and Rs 753.8 per kl cut in prices in the three previous fortnights.
After today's reduction, ATF prices have come down to October 2011 levels after hitting a high of Rs 67,800.3 on April 1 this year.
Jet fuel had hit an all-time high peak of Rs 71,028.26 per kl in August 2008 shortly after international oil rates touched a record USD 147 per barrel.
In Mumbai, jet fuel will cost Rs 61,934 per kl from tomorrow as against Rs 63,178 per kl now.
 Jet fuel constitutes over 40 per cent of an airline's operating costs and the reduction in prices will ease the burden of cash-strapped airlines.
No immediate comment was available from the airlines on the impact of the price reduction on passenger fares.
The three fuel retailers—IOC, Hindustan Petroleum and Bharat Petroleum—revise jet fuel prices on the 1st and 16th of every month, based on the average international price in the preceding fortnight.