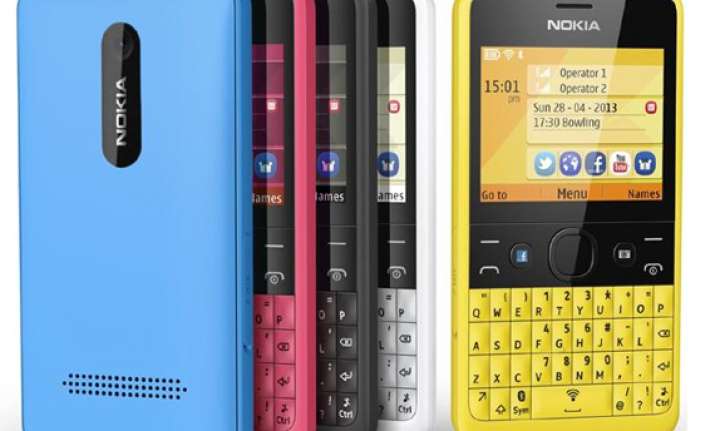 New Delhi, May 22: Nokia's flagship WhatsApp phone, Asha 210, will make its India debut this month with an affordable price tag of Rs 3,999. An online retailer has recently said that the company will start shipping the handset from May 31.
Nokia Asha 210 features a 2.4-inch LCD display with 320x240 pixel resolution. This display has 4:3 aspect ratio and 16-bit color depth.
It is a sleek and colourful handset. It is 11.8 mm thick and has a four row Qwerty keyboard with tightly packed keys. The device's spacebar also acts as a shortcut to start the WiFi connection.
The center point of Asha 210 is a dedicated WhatsApp button. Besides, the phone also comes with a separate camera button which can be operated even when the phone display is switched off. Another interesting feature of Asha 210 is that it comes with built-in voice guides that can direct the user to come within the camera's frame to take self-image. The device is offered in both single SIM and dual-SIM versions.
Nokia's flagship WhatsApp phone, Asha 210, is reportedly making its India debut by the end of this month with an affordable price-tag.
Also, a number of websites have put up Asha 210 without giving the details of its price and shipping. The colour options are: magenta, cyan, yellow, black and white.
Key specs:
QWERY Keypad
Dual SIM slot
Micro-SD card slot
2.4-inch LCD screen with a resolution of (320 x 240p)
Dimensions: 111.5 x 60 x 11.8 millimeters
Weight: 99.5 grams
2MP rear camera
32MB RAM
1200mAh removable battery
Connectivity Options: Bluetooth, Wi-Fi.