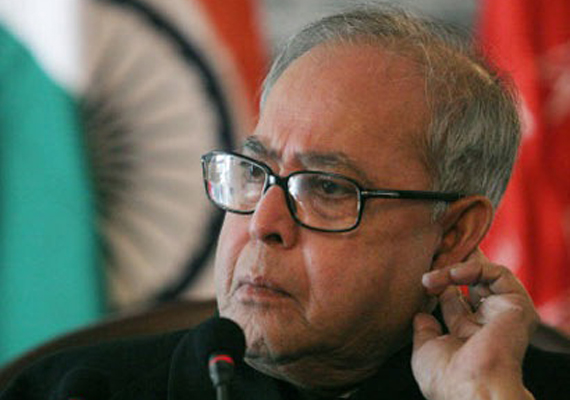 New Delhi, Mar 25: The government today said it has no vindictive intention in retrospectively amending tax laws and has no plans to re-open a large number of old cases, while assuring India Inc that the I-T Department will not act like a "policeman".
Interacting with industry leaders here, Finance Minister Pranab Mukherjee maintained that there was no trust deficit between the government and industry and stressed that the Centre will make all efforts to push forward economic reforms despite constraints of "limited mandate".

"I can assure the industry that there is no intention of opening plethora of the old cases on this plea or that plea because that is simply not permissible (under the laws)," he said while replying to a question at CII meet here.

On industry apprehensions over amendment to the Income Tax Act, as proposed in the Budget, that many tax cases could be reopened, Mukherjee said "to that my answer is no". "This amendment has been made not with any vindictive or with asserting any particular point of view. This is absolute requirement of the law.

"...But at the same time, I shall have to protect myself.  I am not holding my money. I am custodian of the money given by 120 crore people through taxation," he added.

Responding to concerns expressed by industrialist Rahul Bajaj that arrest provisions in GAAR (General Anti-Avoidance Rule) could be misused, Mukherjee said: "We shall have to be careful and we shall have to take note of it because job of the I-T Department is not that of the policeman." He further added: "We are concerned with the realisation of taxes, not to sit on the judgement whether it is a crime or not, but that is a different issue."

The Finance Minister also reiterated that there was no trust deficit between the government and industry, and assured them that the UPA will make efforts to reach consensus on important issues despite constraints of coalition politics.

Mukherjee said, "I can assure, perhaps I can speak on behalf of the government, that (there is) no question of trust deficit".

However, he added, "We have a limited mandate and in (such a) case you cannot expect that (whatever) the executive or the government decides, they get it done".

On policy front, Mukherjee said it will be government's endeavour to build broad-based consensus to implement the decisions which have already been taken and confront issues that need to be addressed.

The statement assumes significance against the backdrop of government suspending decision to implement foreign direct investment in multi-brand retail after strong opposition to the move, including from its own ally Trinamool Congress.

Also, the Cabinet had taken an in-principle decision in June 2010 to deregulate diesel prices along with petrol but a formal order on freeing diesel rates could not be issued under political pressure. UPA government's allies do not want diesel prices to be deregulated as it could ignite inflation.

Replying to a question related with energy, Mukherjee said agitations against setting up of power plants, such as the one at Kudankulam nuclear plant, are preventing the country from achieving its energy requirement.

Stating that India is facing "energy famine", he said the country needed to look beyond coal-fired power plants to meet its massive energy requirements.

"...coal linkages, coal production is fine...but the other sources of energy (need to be exploited) because the country is having energy famine," he added.