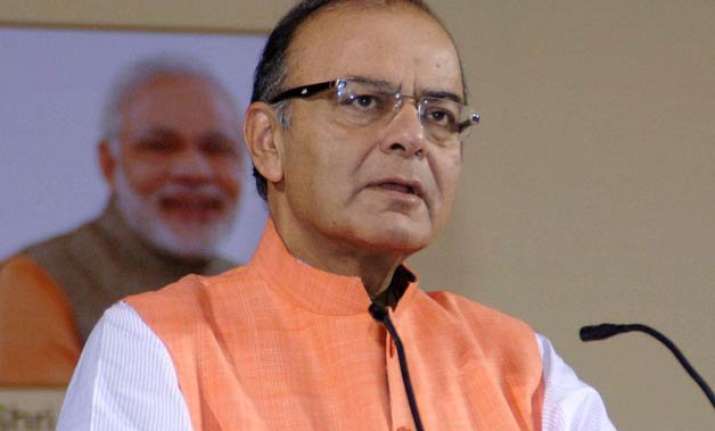 New Delhi: Scotching murmurs of differences between the government and the RBI over regulation of money market, Finance Minister Arun Jaitley today said there is no 'disconnect' between the two and hoped banks would follow the central bank in reducing interest rates.
Jaitley, who addressed the RBI board on his proposals in Budget for 2015-16, said there have been regular interactions and the government often takes opinion and suggestions of the central bank.
On the possibility of future interest rate cuts, RBI Governor Raghuram Rajan said it would depend on the pattern of inflation and added that the central bank would carefully watch the impact on unseasonal rains and hailstorm on the price situation.
"We have complete free and frank discussions and therefore there is no question of any disconnect... between the bank and the government, I have repeatedly clarified that," Jaitley told reporters after the meeting.
Jaitley in his budget had proposed to shift powers to regulate trading in government bonds from RBI to capital market regulator SEBI.
"As far as proposals in the Finance Bill are concerned they are before Parliament. Some of them we discussed earlier, we discussed them even now ...I don't wish to comment at this stage," he said.
He further said that discussion between the government and the RBI always continues. "They (discussions) have been before the budget and have taken place after the budget as well," he said.
When asked whether banks would be pressurised to pass on rate cuts to consumers, Jaitley said the government doesn't put pressure but hopes and it is hopeful that they would do it in line with the RBI policies.
Jaitley said, "We do not put pressure on them. We only expect and our expectations come true."
Despite RBI cutting short-term lending rates by 0.50 per cent in quick succession, banks have yet to reduce lending rates for borrowers.
As far as future rate cut by the RBI is concerned, Rajan said it would primarily depend on the domestic price situation and partly on global factors, especially hike in rates by the Federal Reserve.
"While external environment is a constraint, a lot of what we need to do has to do with the internal environment," he said adding that the Federal Reserve may take a little longer to raise interest rates.
However, he added, "that (Fed rate hike) can't be the primary factor. The primary factor in allowing for greater monetary easing will be the pattern of inflation and how that proceeds."
On the impact of unseasonal rains and hailstorm on farm output, Rajan said, "As far as rains go, there is no direct one-to-one correlation between rains and prices. It depends on what crops (are impacted).
"What it means is that we have to be more careful in food management and government has repeatedly said it is looking at food prices and is engaged actively in food management. It needs greater vigilance."
Answering questions on the fiscal deficit situation, Rajan said, the government has taken a number of steps and much would depend upon the external and internal environment, especially the disinvestment programme which is dependent on the markets.
"It (fiscal deficit) also depends on the actions of the state governments. So, we have to look at all these to see how much fiscal consolidation is happening over the course of the year given the intent that has already been expressed," he said.
The government proposes to bring down the fiscal deficit to 3.9 per cent of GDP in 2015-16 from 4.1 per cent estimated in the current fiscal.
The 17-member RBI Board comprises of Governor Raghuram Rajan, four Deputy Governors, nominees from Finance Ministry, industry representatives and other experts.