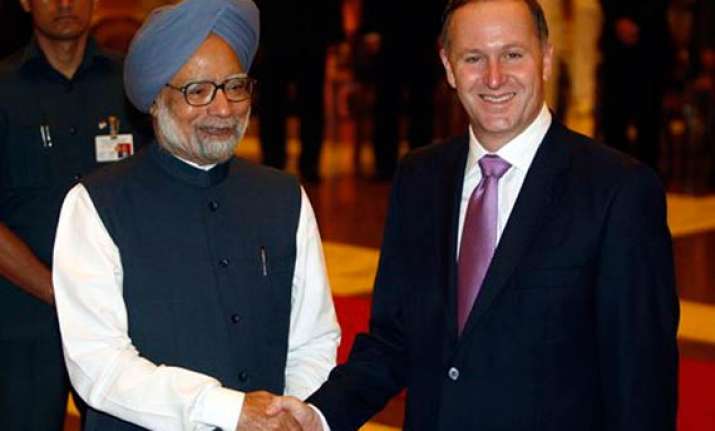 New Delhi, Jun 28 :  Eyeing "huge opportunities" in Indian markets, New Zealand is hoping to conclude the proposed free trade agreement with India by 2012 which will provide boost to the bilateral trade ties.

The visiting New Zealand Prime Minister John Key said huge opportunities are available for businessmen of both the countries to invest in each other's nations.

"Our partnership is growing and that is the reason we are very keen for the progress in the free trade agreement. We hope that we will complete that (FTA) by 2012," Key said at a luncheon meeting with business leaders of Assocham, CII and Ficci here.

He also emphasised on the need to increase people-to-people contact and invited more Indian students to New Zealand.

Key is leading a large business delegation in his first visit to India.

Commerce and Industry MinisterAnand Sharma invited investments in sectors like renewable energy, infrastructure, agro processing and IT.
Appreciating the state-of-art technology being used by dairy industry and renewable energy in New Zealand, Sharma asked for bringing such technology to India.

The major areas where both the countries can cooperate include post harvest technologies, logistic management for agriculture sector, wind and geo-thermal energy, tourism, films, pharmaceuticals, education, IT enabled services, and financial services, Sharma said.

The bilateral trade has more than trebled between 2004-05 and 2010-11.

In 2010-11, Indian exports to New Zealand stood at USD 191.39 million, while imports were USD 621.55 million.  India's exports mainly include engineering goods, mineral fuels, pharmaceutical, pearls, precious and semi-precious stones, textiles, chemicals and electrical machinery.

Major import items include mineral oils, wood, dairy products, paper, wool, leather, iron and steel, electrical machinery and edible fruit and nuts.
 
Earlier John Key received a ceremonial welcome at  Rashtrapati Bhavan.  Speaking to reporters after the ceremony, Key hoped that his visit would help the two countries "deepen and broaden" their relationship.  Key later met President Pratibha Patil, UPA chairperson Sonia Gandhi, Leader of Opposition Sushma Swaraj and other leaders.

Key is scheduled to visit a film studio in Mumbai on Wednesday and leave for Kuala Lumpur on Thursday.