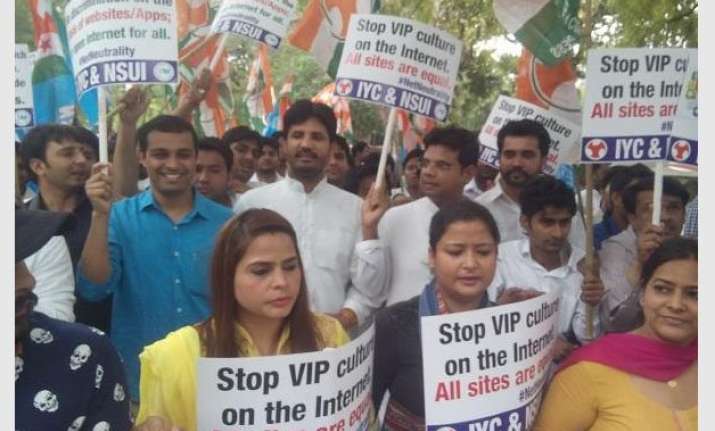 Congress vice-president Rahul Gandhi today raised the issue of net neutrality in the Lok Sabha. He said Net Neutrality is a simple concept that says that all citizens should get equal access to the Internet, however, the government wants to divide it and hand it over to big corporates.  He emphasized that the country needs a net neutrality law that won't allow the Internet to be divided into parts.
The issue of net neutrality has triggered a raging debate since December 2014, after telecom operator Airtel announced that it would charge separately for using VoIP services like Skype and Viber over its data plans. Last month, the TRAI brought out a consultation paper inviting responses from the general public about net neutrality in India, to which it has already received over 10 lakh responses.
ALSO READ: What is net neutrality
Already, sites like SaveTheInternet.in and NetNeutrality.in have been put up to raise awareness about the issue. Even comedy groups like All India Bakchod have pitched in. And a concern to protect netural internet, high-profile Indian startups like Flipkart and Cleartrip, have parted ways from net neutrality-violating initiatives like Facebook's Internet.org and Airtel Zero.
ALSO READ: Dear Prime Minister, please save the net neutrality, asks tech startups
You may wonder why there is so much debate going on around this issue and how it affects you as a consumer.
ALSO READ: The real status of net neutrality in India
But first understand the net neutrality in a short version: Net neutrality is the principle that data on the Internet is moved blindly and impartially, without regard to content, destination or source. This means all Internet service providers (ISPs) should give consumers access to all legal content and applications on an equal basis, without favoring some sources or blocking others. It prohibits ISPs from charging content providers for speedier delivery of their content.
ALSO READ: Flipkart forced to pull out of Airtel Zero
Here's what will happen if the net is not neutral: A lot of startups will fail… consumers won't get to know or pay for a new or innovative product. It will seriously impact Indian tech startups – already reeling under intial investments and other expenses – as they have to pay to telecom companies to clear the first barrier. This will make them hard to compete against the others.
ALSO READ: Cellular operators reaffirm support for net neutrality
For instance, the Airtel Zero programme is offering customers free access to certain apps and services, with cost of this data traffic being borne by the partner. This means, if Flipkart signs up as an Airtel Zero partner, you will not be charged for data you use while accessing Flipkart, and Airtel will bill Flipkart for that session. This may sound good, but experts say it is against consumer interests in the long term. They say smaller companies, who cannot afford to subsidise consumer access to their websites and services, are likely to lose out, stifling innovation and the rise of small companies in the long run. Of course Airtel is not alone in this, with Facebook's Internet.org operating on a similar principle, and various other apps have tie-up with telcos in the past to offer consumers free access to their services.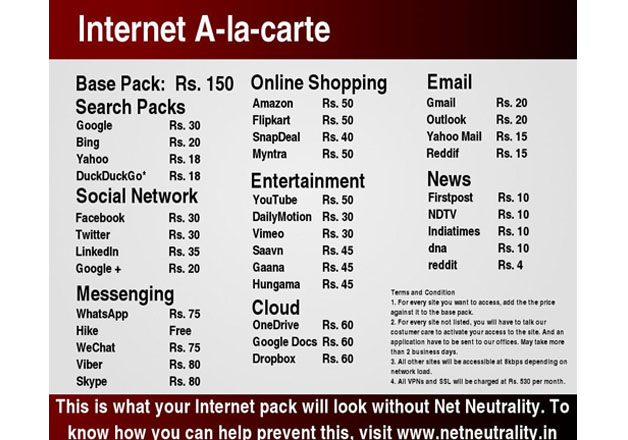 Imagine if you have to pay extra for using WhatsApp, which is already a big concern for telecos since it eats into their SMS rvenues. And what if you are being charged for watching YouTube and Netflix, which consume massive amounts of bandwidth. This will lead to your internet being sliced into packs: Rs 50 extra for a YouTube pack, Rs 10 extra for WhatApp pack, Rs 20 to access Skype. What will happen if services like WhatsApp does't pay up, it risks being slowed down. This also means some apps or websites face the risk of being throttled out.
If you don't want your mobile operator to charge extra for WhatsApp, Skype or YouTube and promote its own services over the others, submit your responses to TRAI's twenty questions to the authority before April 24, 2015 at advqos@trai.gov.in.