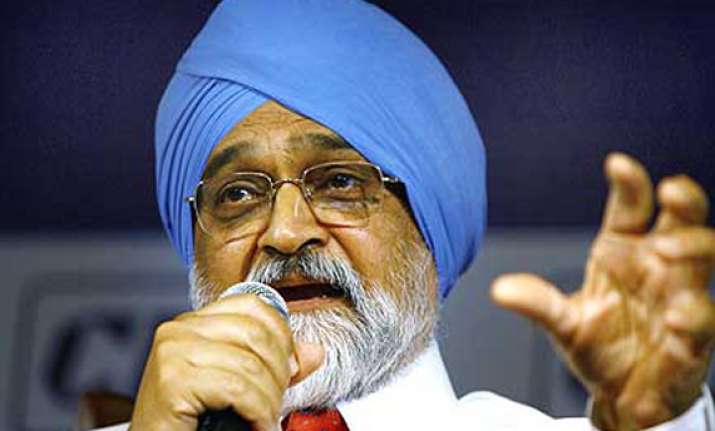 Mumbai, Jun 10: Planning Commission Deputy Chairman Montek Singh Ahluwalia on Saturday dismissed the criticism that the national planner is behind the curve in getting its work done, saying he is expecting the NDC approval for the 12th Plan by September.
"I am sure of getting the National Development Council (NDC) approval for the 12th Plan by September, and if that happens, it will be a full three months before, if we compare this with the 10th and 11th Plans," Ahluwalia said here while addressing a function on the 30th anniversary of Nabard.
There were reports, quoting commission officials, that the planning body may not be able to get the proposals approved by the NDC as scheduled by September, because many working groups are yet to submit the final reports.
Stating that this presumed delay does not impact the functioning of the Plan per se, he said it takes time to get all the data from all agencies and ministries, including reports of steering committees and working groups and views of different ministries and departments.
The documents for 10th and 11th Plans were also finalised much after the beginning of the respective Plan periods. The 11th Plan, which began in April 2007, was approved by NDC in December 2007.
The 12th Plan (2012-17) seeks to raise economic growth rate to 9 percent.
For FY13, the first year of the new Plan, the GDP is projected to clip at a low 5.7 percent to a high of 7.6 percent, as per the government forecast. But the consensus forecast is around 6.5 percent, the rate at which the economy grew in FY12, the lowest rate in the past nine years.
However, Ahluwalia did not say whether the Commission will revise its growth projections for the entire Plan period.
Normally the Commission begins to finalise the Plan document in April of the beginning year and it would take at least six months to prepare the document, Ahluwalia said.
After the finalisation of the document, it will be placed before the full Planning Commission, the Union Cabinet and the NDC, which is the highest policy making body of the country.
As to the 12th Plan, NDC approved the approach paper, which provides a broad framework of the government policy  to achieve the desired growth rate, on August 20, 2011.