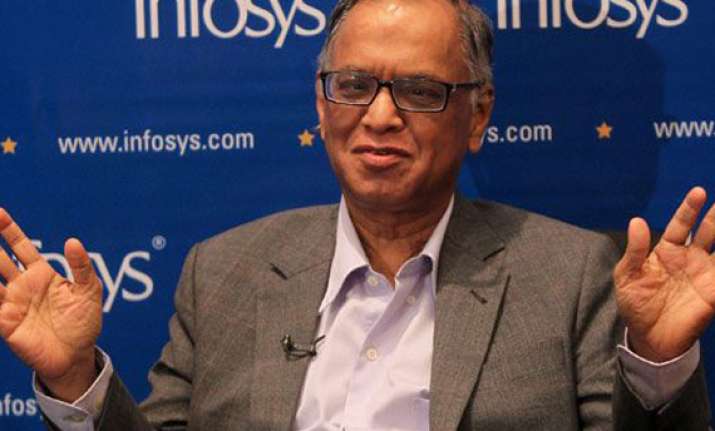 New Delhi, June 4: NR Narayana Murthy has been reappointed Narayana Murthy as executive chairman of the firm, two years after he retired in August 2011, having turned 65.
The announcement has, predictably, got the street all excited — with Infosys stock jumped as much as 9 per cent on Monday — and his return has injected a shot of enthusiasm into the one-time bellwether that has of late been in the news more for its serial underperformance.
Here's his letter to the top brass of the company.
Dear folks,
In the recent months, our company has gone through challenging times.
However, we should all be optimists. We have overcome tougher and bigger challenges before.
But we have much to do. The need of the day is to focus on our employees; take quick, tough and firm decisions; communicate these decisions with clarity and speed; execute these decisions with speed, imagination and excellence; and exceed the expectations of our customers and investors .
A few weeks ago, Mr KV Kamath, Chairman - Infosys, met me. He requested me to return to Infosys as the Executive Chairman. I pondered over this issue carefully. I had decided that post-retirement I would like to work in areas that I enjoy, particularly those of mutual competence with my son, Rohan Murty, and his colleagues at Catamaran, our family investment office. Rohan is a computer scientist at Harvard University and has held fellowships at MIT, Caltech, and Microsoft Research.
Given the board's keenness and my parental attachment to Infosys, I have accepted his request to be back as the Executive Chairman after a gap of seven years. Therefore, I have decided to suspend my retirement and several work-in-progress projects I have been involved in these past few years.
My request to Mr. Kamath and the board was that I be allowed to bring a part of my team from Catamaran, including Rohan, to assist me as executive assistants during my tenure. The board has agreed.
I explained to Mr Kamath how, given Rohan's credentials, he would add value to me and to Infosys. Consequently, I have requested Rohan to take sabbatical leave from Harvard and join my office to assist me. His charter is to be my executive assistant and not to aspire to become the next CEO.
I have informed the board that I have decided to receive a token compensation of Re. 1 per year, as has Rohan. The only motivation for me to embark on this journey at the current stage of my life is to see Infosys achieve the dreams that you and I have for it..
With best regards, Narayana NR Murthy