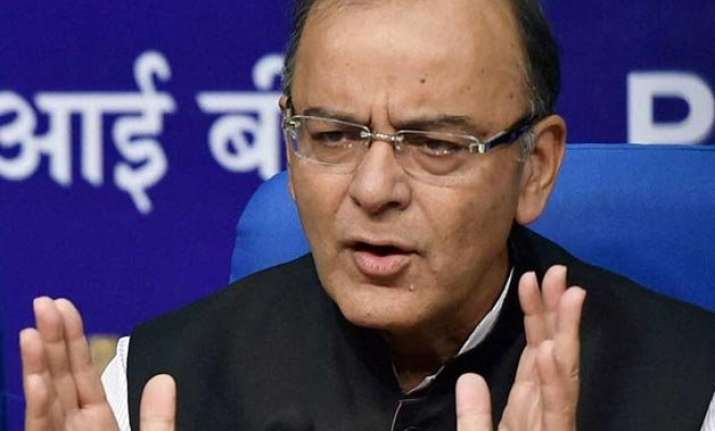 New Delhi: The government would formulate more variants of its social security schemes to benefit maximum number of people, union Finance Minister Arun Jaitley said on Monday.
"We will bring out more variants of social security schemes in the near future to ensure maximum number of people benefit from them," Jaitley said at his ministry's second parliamentary consultative committee meeting here.
Noting that only 11 percent of the population had pension schemes while only 20 percent were insured, Jaitley said the Pradhan Mantri Suraksha Bima Yojana (PMSBY), Pradhan Mantri Jeevan Jyoti Bima Yojana (PMJJBY) and Atal Pension Yojana (APY) would play in key role in achieving universal social security goals across the country.
"Ever since the prime minister launched the three ambitious schemes on May 15, 7.84 crore people registered under PMSBY, 2.70 crore under PMJJBY and 4.69 lakh subscribers joined APY during the last two months," Jaitley claimed.
For better policy formulation and coordination, the government would bring all the social security schemes being implemented by various ministries and departments under one roof, he said.
Asserting that the government's first step - the Pradhan Mantri Jan Dhan Yojana - for financial inclusion led to the opening of a record 16.73 crore accounts with total deposits of Rs.19,990.52 crore since its launch in August 2014, the minister said its scope was widened by introducing micro insurance, micro pension and micro credit schemes.
"The focus is to enlarge the scope of the social security schemes and include maximum number of people with in their ambit," Jaitley said.
Financial Services Secretary Hashmukh Aadhia said that 14.86 crore Rupay cards were issued to Jan Dhan account holders till July 8 and zero balance accounts declined to 52 percent from 75 percent.