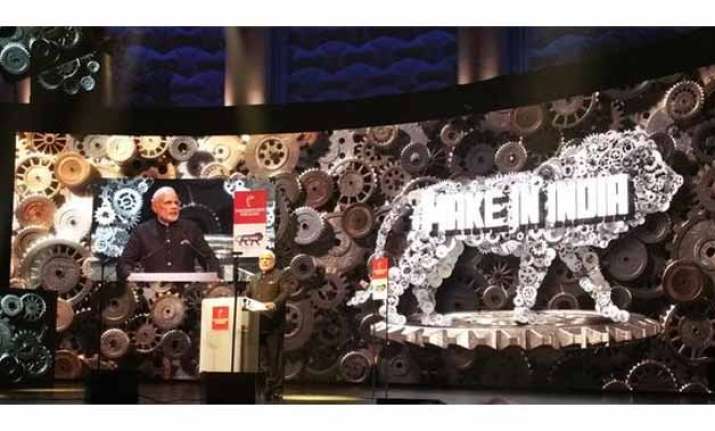 Berlin: Prime Minister Narendra Modi, who is currently touring Germany as part of the second leg of his three-nation tour, arrived in Hannover to inaugurate the India Pavilion on Monday.
According to reports, Prime Minister Modi and German Chancellor Angela Merkel jointly inaugurated the India Pavilion at the Hannover Messe, the world's biggest industrial fair, in which India is the partner country this year.
"India Pavilion at @hannover_messe inaugurated by PM @narendramodi & Chancellor Angela Merkel," External Affairs Ministry spokesperson Syed Akbaruddin tweeted.
"The @hannover_messe is known all over the world. World industry comes here to showcase what they have done," Modi also tweeted.
"Come to India, increase your partnership with India and make use of this opportunity India offers to scale new heights of success," Modi said during his inaugural speech adding, "India has the power to become a manufacturing hub.
"The entire world is looking at India. Demography, democracy and, demand are drawing the world to India. India is a partner nation and I thank Germany for making India a partner nation," he added.
From here, the PM is scheduled to leave for Berlin this afternoon where he is due to meet the grandnephew of great freedom fighter Netaji Subhas Chandra Bose - Surya Bose – amid a bitter snooping row back home.
The PM is also expected to attend a community meeting hosted by the Indian Ambassador in Berlin.
According to reports, PM is also expected to take a tour of the city's railway station for inspiration for his efforts to modernize India's massive railway network. He is also expected to pay a visit to Siemens Technical Academy.
PM Modi's proposed meeting with Surya comes in the wake of revelation that former prime minister Jawahar Lal Nehru spied on Bose's family for 20 years between 1948 and 1968. India had three Congress prime ministers during these 20 years - Jawaharlal Nehru, Lal Bahadur Shastri and Indira Gandhi.
Surya Bose, also the president of the Indo-German Association in Hamburg, which was founded by his great uncle, has been invited by the Indian embassy to attend a reception in Berlin during Modi's visit. The reception will be organised by the Indian embassy in Berlin's Hotel Adlon this evening.
The development comes two days after Surya's brother and family spokesperson Chandra Kumar Bose had on Friday expressed shock over reported revelations that successive Congress governments had snooped on family members of Netaji Subhas Chandra Bose for 20 years after independence.
Chandra Kumar Bose has already demanded that the Narendra Modi-led NDA government should declassify the secret files related to Netaji.
When under house arrest by the British, Netaji had escaped from India in 1941 to seek international support for the freedom struggle. After organising the Indian National Army with Japanese help to wage a war against the British, he had gone missing in 1945 and was believed to have died in a plane crash.
The Mukherjee Commission had, however, rejected the theory that Bose was killed in the crash in Taiwan on August 18, 1945.
Meanwhile, in Germany the highlight of PM Modi's visit was the joint inauguration of the Hannover Fair along with Chancellor Angela Merkel yesterday. India is the partner nation for the fair for this year.
He had earlier vowed to remove unnecessary regulations and procedures to simplify the process of foreign investment in India. He also pledged to make it easier for other countries to initiate business deals, while inaugurating the Hannover Messe Fair. Prime Minister Modi also attended a round table conference with the German CEOs.
Although no bilateral agreements are expected to be signed during the visit, all issues would be discussed and proposed agreements will be tabled during Merkel's visit to India in October, as per reports.
In the final leg of his trip, PM Modi will travel to three Canadian cities – Ottawa, Toronto and Vancouver – in the first bilateral visit by an Indian prime minister in 42 years. PM Modi is expected to hold talks with Canadian Prime Minister Stephen Harper and address the Indian diaspora at Toronto's Ricoh Coliseum on April 15.
The next day, PM Modi flies to Vancouver, where he will visit a Hindu temple and a Sikh gurudwara before returning to India.