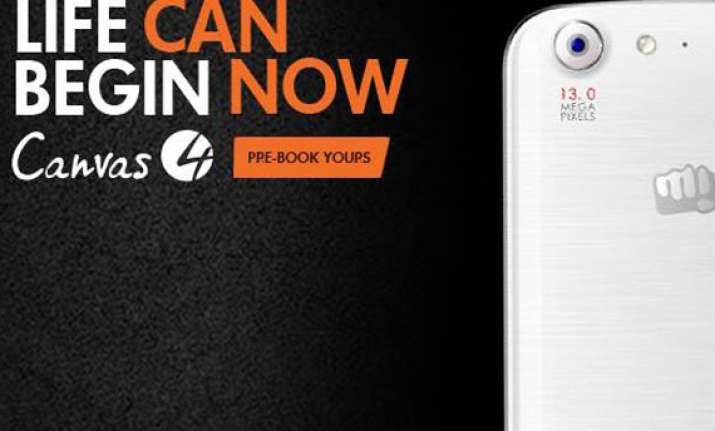 New Delhi, July 1: Homegrown handset maker Micromax has started taking online orders of its latest smartphone of Canvas series, Micromax Canvas 4. You can pre-book the phone by paying Rs 5,000. Once the product goes official on July 8, 2013, you can pay the remaining amount without any interest. The price of the phone will be announced on the same day, the company website says. The smartphone is likely to be priced at around Rs 22,000.
This will be for the first time that an Indian company will be taking pre-orders for a handset even before announcing the size, specifications and even display quality.
Micromax is yet to reveal the full Canvas 4 HD specs but as per cent details available it is likely to have octa-core processor, full HD display, 13 mega pixel camera and many other top-end features found in smartphones manufactured by top-notch handset makers like Samsung, LG, Sony, HTC and others. Notably, a handset with such specifications from big handset makers will cost a user Rs 35,000, but the Micromax Canvas 4 is expected to be priced at Rs 20,000 to Rs 22,000.
Though on pre-orders there is no EMI amount, on the rest of the amount you will have the option to go for 3,6,9 or even 12 EMI options.
The handset will hit the market on July 8 and the people who have pre-ordered the handset will have 7 days time from the launch date till July 15 to pay the rest of the amount. On canceling the order, the full amount will be refunded and the order will stand cancelled.