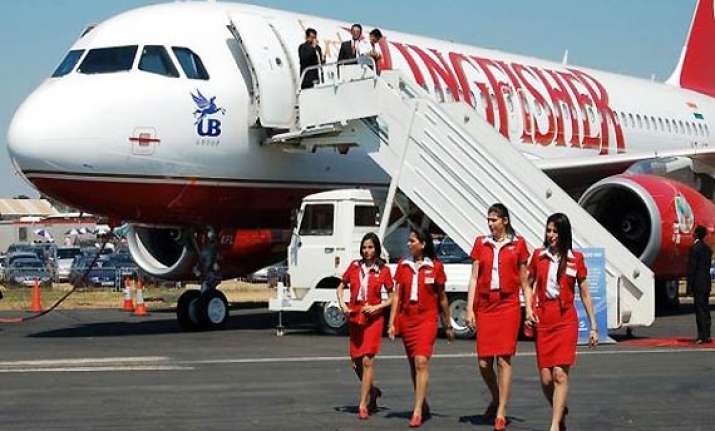 Mumbai, Dec 1: The Mumbai Airport authorities (MIAL) have threatened to put cash-starved Kingfisher Airlines on a cash-and-carry mode again from Saturday if the carrier fails to pay up the dues of around Rs 90 crore.

The development comes amidst reports that even the state-run Airport Authority of India has threatened to put the airline—which is sitting on a debt of over Rs 12,000 crore on cash-and-carry mode.

The airline owes Rs 240 crore to national airports operator and the move reportedly came, according to an official, after a cheque issued by Kingfisher bounced. 

Airlines usually pay monthly charges to the airport operators. But under the cash-n-carry mode, Kingfisher, which operates maximum flights from Mumbai and Delhi, will have to make daily payments.

"We are talking to them for about Rs 90 crore dues. If they don't clear them by December 3, we will be forced to put them on a cash-n-carry mode," a senior official of Mumbai International Airport (MIAL) told PTI this evening. 

When contacted, the airline spokesman refused to comment saying "as a matter of policy we do not comment on supplier and partner relationships. However, we would like to reassure all our guests that all our flights will continue to operate as normal as per the revised schedule published on our website."

The MIAL official, who did not wish to be quoted, said that if put on the cash-n-carry mode, the airline will have to pay Rs 60 lakh daily to MIAL for operating flights. 

The Vijay Mallya-promoted carrier has not been paying the airport operator for the past six months, the official said.  As in the case of AAI, what prompted MIAL to take the decision was a dishonoured Kingfisher cheque, a source at MIAL said.

Kingfisher is struggling to meet its working capital needs, and has sought relief from lenders. It owes close to Rs 7,060 crore to 14 banks, and they are currently assessing the viability of the airline.

Kingfisher reported a net loss of Rs 469 crore for the September quarter, though there was a 10.2 percent rise in revenues at Rs 1,528 crore, on account of massive spike in aviation fuel prices, and inability to hike fares due to the competition.

According to industry experts, the airlines are currently selling tickets at Rs 900 discount per seat.