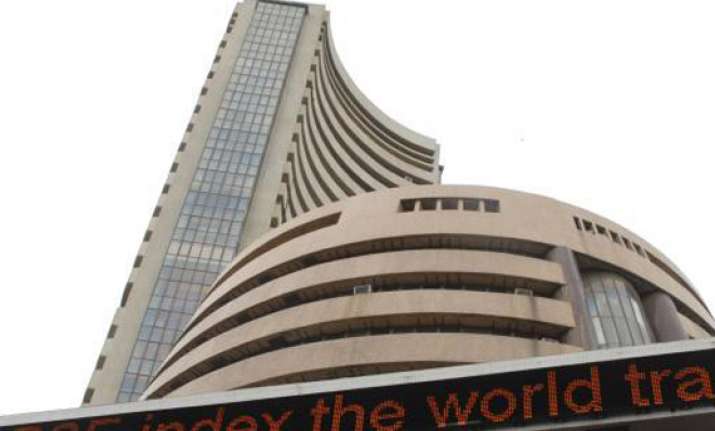 Mumbai, Jun 4: After plunging over 200 points to its lowest level in five months, the Sensex today erased early losses to close 23.24 points higher on the back of rate cut hopes sparked off by RBI's comments, rupee gaining strength against dollar and crude oil prices falling to a 16-month low.
The late rally led by Larsen & Toubro, Reliance Industries and banks including SBI helped the Sensex to break a three-day losing streak where the 30-share index lost over 470 points.
Weighed down by a weak opening in Asian stocks, the Sensex today opened 156 points down and soon after touched the day's low of 15,748.98, the lowest since January 9. Weak US jobs data and concerns over China's growth pulled down Asian stocks with Tokyo market touching its 28-year low.
But, the recovery in Indian shares rode on the back of RBI Deputy Governor Subir Gokarn's comment that below-trend growth and falling oil prices offer a window to ease policy stance.
"(For one,) the growth is somewhat lower than expectations and that may have positive, moderating impact on core inflation. Two, oil prices have come off somewhat more than expected. Those are the two factors that suggest more room (for monetary policy)," Gokarn told reporters here. 
The mood further improved as the rupee strengthened against the dollar touching a one-week high of 55.20 while Brent crude oil prices fell below the USD 96 per barrel level.  Buoyed by these factors, the Sensex closed at 15,988.40, up 23.24 points. Similarly, the 50-share NSE Nifty rose by 6.55 points to 4,848.15, after touching a low of 4,770.35.
"Hopes of a rate cut from RBI in the forthcoming meeting (June 18) led to good bounce back even as Europe opened mixed ," said Shanu Goel, Sr. Research Analyst, Bonanza Portfolio.
L&T that gained 3.43 per cent was the biggest gainer in Sensex, followed by ICICI Bank, HDFC Bank and SBI which rose over 1 per cent each. Other rate-sensitives such as DLF, Tata Motors and Hero MotoCorp closed 1-2 per cent higher.  ONGC and Reliance rose 3.2 per cent and 1.31 per cent respectively.
Capital goods, realty, oil & gas, banking and auto stocks attracted good buying support while some of the consumer durables and FMCG counters finished with losses today.  "...this is a good time to invest in India as valuations are the most attractive that they have been in a decade," said Saurabh Mukherjea, Head of Equities, Ambit Capital.
Asian markets today finished sharply lower following bearish trend on Wall Street last weekend. Key indices from China Hong Kong, Japan, Singapore, South Korea and Taiwan ended 1.70-3.00 per cent lower.
European stocks, however, trading mixed in the afternoon sessions. The France's CAC was up by 0.32 per cent while the Germany's DAX was down by 1.20 per cent. The UK's FTSE was closed on account of a holiday.
Among Sensex losers, GAIL India dropped by 3.47 per cent, followed by Jindal Steel (2.72 pc), Tata Power (2.49 pc), Bharti Airtel (2.31 pc), Sterlite (2.3 pc), HUL (1.55 pc), ITC (1.54 pc), Cipla (1.30 pc), Hindalco (0.95 pc), Wipro (0.95 pc) and TCS (0.94 pc).
The market breadth continued to remain negative as 1,830 shares finished with losses and 850 shares ended with gains.  Among the sectoral indices, the BSE-Capital Goods rose by 2.08 per cent, followed by BSE-Realty (1.35 pc), BSE-Oil&Gas (1.18 pc) and BSE-Bankex (1.10 pc) while BSE-Consumer Durables dipped by 2.92 per cent and BSE-FMCG slumped 1.53 per cent.
Talking about the outlook, Sharmila Joshi, Head Equity, Fairwealth Securities said: "Investors would keep an eye on ISM New York and factory Orders to be released by the commerce department today evening in the US."
The total market turnover was relatively low at Rs 1759.61 crore from Rs 1,873.85 crore last Friday.
Foreign institutional investors offloaded stocks worth Rs 220.37 crore on last Friday as per provisional data from the stock exchanges.