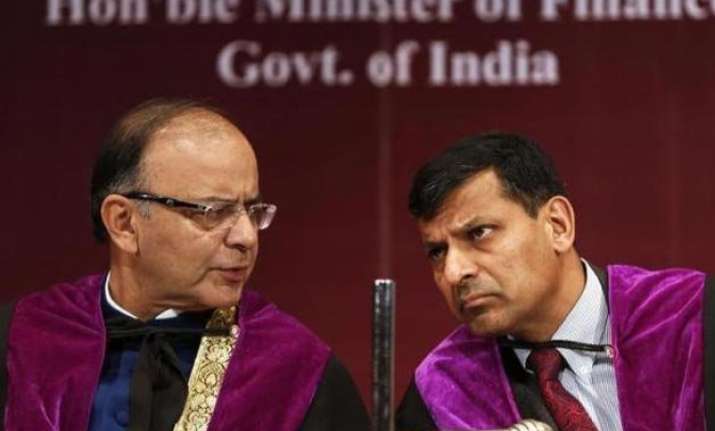 New Delhi: Finance Minister Arun Jaitley's decision to stick to the fiscal deficit targets of 3.9 per cent and 3.5 per cent for this year as well as the 2016-17 financial year respectively has sent markets expecting Reserve Bank of India governor Raghuram Rajan to put his rate-cutting scissors to use sooner than later.
On Monday, Jaitley presented his second full budget where he stuck to the target of reigning in the fiscal deficit target of 3.5 per cent of the GDP for the year 2016-17 while increasing spending on the social and farm sectors. The decision not to relax the targets for the second year in a row, which had spooked markets into a massive selloff ahead of Budget day, now puts the onus on the RBI to mend weak sentiments.
Meanwhile, the market has bet big on Raghuram Rajan opting for an out-of-turn rate cut soon after the budget. The Sensex shrugged off Budget day losses and zoomed 777.35 points to close at 23,779.35, up 3.38 per cent, its biggest ever single-day gain witnessed in nearly seven years. The Nifty too climbed 235.25 points to close at 7,222.30 points.
On its part, the RBI had categorically stated in the run-up to the Budget that any slippage in the fiscal deficit target on part of the government would tie its hands as far as rate cuts were concerned. With the government sticking to the fiscal roadmap for the current financial year as well as FY17, there are hopes that the rate cut could be coming anytime soon.
The big gains were largely led by the rate-sensitive banking stocks, which rallied over 8 per cent. ICICI Bank, Punjab National Bank and IndusInd Bank were among the top Nifty gainers. Auto and realty stocks also witnessed buying interest.