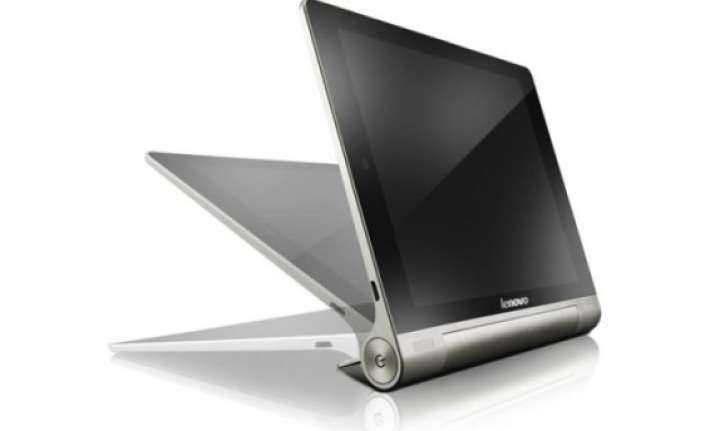 New Delhi: Lenovo has launched two new Android tablets, the Yoga 8-inch and Yoga 10-inch. The Lenovo Yoga 8-inch tablet costs Rs 15,200 approximately while the Lenovo Yoga 10-inch tablet has been priced at Rs 18,300 approximately. The tablets have been launched in the US, and for now, no global availability details have been released.
The company says with Yoga tablets the company wanted to do something that is a bit different from the market.
Both the newly launched tablets sports Lenovo's multimode feature, offering three modes to work - hold, tilt and stand. The tablets also have cylindrical handles at one end for gripping. Lenovo said that one other benefit to the cylindrical handle is that it allowed them to include a larger battery.
The Chinese manufacturer claims that both the tablets can deliver up to 18 hours battery back-up. The Lenovo Yoga 8-inch and 10-inch tablets run Android 4.2.2 Jelly Bean.
Both the Yoga tablets are powered by quad-core MediaTek processors; the Wi-Fi variants equip the MediaTek MT8125 processors, while the 3G variants are powered by the MediaTek MT8389 processors. Lenovo Yoga 8-inch and 10-inch tablets come with two built-in storage variants 16GB and 32GB, which is further expandable up to additional 64GB with the help of microSD card and comes with 1GB of RAM.
These tablets also have Dolby audio speakers and packs 1280x800 pixels resolution. There is a 5-megapixel autofocus rear camera and also sports a VGA front-facing camera.
Lenovo has recently appointed Ashton Kutcher as its new brand ambassador.
The 8-inch Yoga Tablet will be sold exclusively at Best Buy and directly from Lenovo.
Meanwhile, the 10-inch model will be available at Amazon, Best Buy, Newegg and Lenovo.