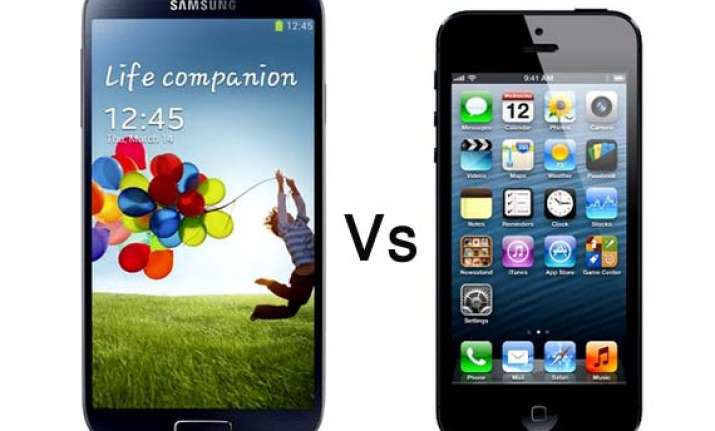 New Delhi: The Samsung Galaxy S4 is a great smartphone - a faster, bigger, slimmer, lighter version of the ultra-successful Samsung Galaxy S3. It's a 5-inch beast, packing a Full HD screen, a searingly powerful quad-core processor, 2GB of RAM, a host of Samsung software extras, a 13-megapixel camera and 4G connectivity for super-fast data speeds. The Galaxy S4 is on pace to become Samsung's best selling device ever, highlighting the smartphone's growing popularity. According to Samsung's co-CEO Shin Jong-kyun, the device is on its way to achieve 10 million mark, less than a month since the S4 launched in 60 different countries.
While the Galaxy S4 uses a largely plastic build with a removable cover, the iPhone 5 is made from glass and aluminium. In terms of processing power, the Galaxy S4 features a Qualcomm Snapdragon 600 quad-core processor clocked at 1.9GHz (an Exynos 5 Octa in some regions) coupled with 2GB RAM. However, the iPhone 5 sports Apple's dual-core A6 chip clocked at 1.3GHz and 1GB RAM.
The iPhone 5 is tailored to its iOS interface and operates as smoothly as any smartphone out there, which the S4 matches with its octa-core processor and super-smart software features.
To give you a clearer picture we did a comprehensive specs comparison:
Samsung Galaxy S4 (No 1) vs iPhone 5 (No 2)Device type
OS
1. Android (4.2.2)
2. iOS (6.1, 6)
Form factor
1. Candybar
2. Candybar
Dimensions   
1. 5.38 x 2.75 x 0.31 inches (136.6 x 69.8 x 7.9 mm)
2. 4.87 x 2.31 x 0.30 inches (123.8 x 58.6 x 7.6 mm)
Weight
1. 4.59 oz (130 g)
the average is 4.4 oz (125 g)   
2. 3.95 oz (112 g)
the average is 4.4 oz (125 g)
Side Keys   
1. Left: Volume control; Right: Lock/Unlock key
2. Left: Volume control, Other
Colors
1. Black, White
2. Black, White