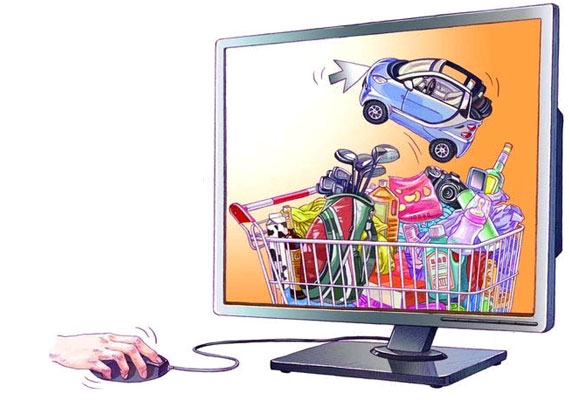 Kathmandu: With the middle class getting more tech-friendly in Nepal, it is no wonder that people are now slowly shifting to online shopping.
The country is usually associated with poor connectivity and power cuts but actually over 2 million Nepalese surf the internet each day, and businesses are increasingly selling their services and products online, Xinhua reported.
When 22-year-old student Sunita Khadka needed to find a dress to wear for the Nepali New Year last week, she looked online.
Although shopping malls and street markets are plentiful in Kathmandu, where she lives, Sunita said that shopping online is quicker and more convenient.
"At the beginning I found it hard to trust online shopping but my circle of friends convinced me to purchase my first product on the internet and I am now addicted to it," Sunita said.
Online shopping has had a rather slow journey in Nepal, primarily because internet penetration in the country is less than 30 percent, according to the Nepal Telecom Authority (NTA).
"When I came back to Nepal from the US in 2011, I noticed that shopping was really difficult and time consuming here," said Amun Thapa, founder of Sasto Deal, one of Nepal's first e-commerce companies.
"Sasto Deal provides discounts and gets products home delivered which is often challenging in a country like Nepal where the streets have no names.
"Even my 83-year-old grandmother can use the internet nowadays, so you can imagine how familiar younger generations are with the virtual world," Thapa said.
But according to the entrepreneur, it has been very difficult to start such a business in Nepal, which ranks 105th out of 189 countries in the "Doing Business 2014" report prepared by the World Bank and the International Finance Corporation.
From the lack of venture capital in the country and the skepticism among Nepalese people, to structural problems such as chronic load-shedding and poor connectivity, developing an online marketplace was no easy feat.
"We basically started out in a garage. We were a very small start-up company with limited resources but we kind of introduced the online shopping culture in the Nepalese society," Prakiran Shrestha, director of marketing at Sasto Deal, said.
A number of other e-commerce companies, such as HamroBazar, NepBay and E-Store Nepal have been set up in the Himalayan nation to accommodate the increasing number of tech-savvy shoppers.