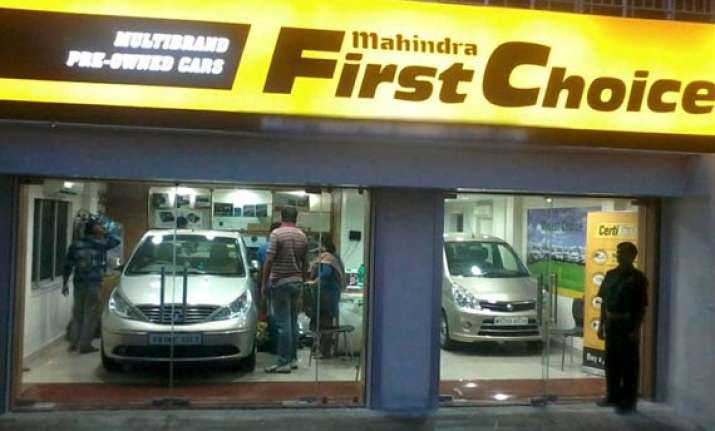 Chandigarh: Mahindra First Choice Wheels, the multi-brand used-cars offering from the Mahindra and Mahindra stable, is eyeing a significant increase in its footprint in the Punjab market.
It is targeting adding 100 outlets this fiscal across thecountry, riding on the back of huge demand in the used car sector.
"The company's footprint in Punjab currently encompasses 19 dealerships and we further plan to expand this number to 25 outlets by year end and may be more.
"While there is great demand from main towns like Ludhiana, Chandigarh, Jalandhar, but even the smaller towns like Hoshiarpur and Gurdaspur are driving the growth," the company's Senior Vice President, Yatin Chadha said.
The company added another outlet in Punjab with the inauguration of its authorised dealership at Kharar in district Mohali by Chadha last evening.
Chadha said the used car industry is growing at a rate of 20 per cent per annum and the growth in the organised used car sector is growing at a healthy rate over 30 per cent per annum.
The dealership will offer the entire range of services for customers, including purchase and sale of multi-brand certified used cars, car finance, insurance, fitment of car accessories and assistance with paperwork and documentation to all those wishing to purchase or sell a used car.
The company at present has a network of 370 franchise outlets spread across 210 locations in the country which includes metros, mini metros and smaller towns.
"The company is growing at a healthy pace with a CAGR of 35 per cent by volumes over the last 5 years. The cumulative retail footprint under the Mahindra First Choice brand is in excess of 7.5 lakh sq feet," he said.
Speaking about company's presence in J&K, he said: "In Jammu alone, we have five franchisees while in Kashmir Valley we have four and one more is in the offing. Already, we are present in towns like Pulwama and Anantnag (Kashmir). We have two outlets in Srinagar.
"From Kashmir up to Kolam in the south and from western side in the Bhuj up to north-east, we have a good presence."
He said that in Kashmir, there was a huge demand for diesel vehicles, mainly SUVs like Scorpio and Xylo brands, keeping in view the hill terrain and to accommodate more persons, with the Valley being a favourite tourist destination.
The company also has good presence in the Delhi and National Capital Region.
"In Delhi and NCR we have 33 outlets, in Mumbai we have 18, Hyderabad and Bengaluru six each, Pune nine, in Chandigarh all put together we have 5 outlets. The good point is that we have growth in all category of towns," Chadha said.
Mahindra First Choice Wheels, which deals with various vehicle brands, plans to take the total number of outlets to 500 over the next two years.
"We have two businesses online and offline. Both put together we sold about more than a lakh cars last fiscal," Chadha said.
With some customers having some inhibitions about purchasing a used car, he said, "our philosophy is to give our customers value for their money. When we procure these (used) cars, if we check 100 cars, we buy only 20 cars. We sell to our customers refurbished cars, which have undergone 118 quality checks," he said.
"Our thought process is that we want to create a complete ecosystem in this country of used car business..," he said.
"The company has created a unique franchisee driven business model and is on a mission to transform the way used cars are retailed in the country.
"The list of innovations include developing a unique franchisee based business model, selling certified multi-brand used cars under warranty and offering the most comprehensive warranty product available on used cars in the country..", Chadha said This is in addition to a differentiated consumer experience through launch of its 'Highline' stores for selling high-end multi-brand used cars," he said.
The company has also launched a new product called the Indian Blue Book (IBB) which it claims is India's first and only used car pricing guide that incorporates transaction data with an analytical engine.
Another product for car evaluation called 'Autoinspekt' "is an unbiased third party vehicle evaluation report to determine the condition, quality and value of a used vehicle.  The report itself covers 53 parameters across 8 vehicle systems of the car and is prepared after physical inspection of the vehicle by a trained engineer," he added.