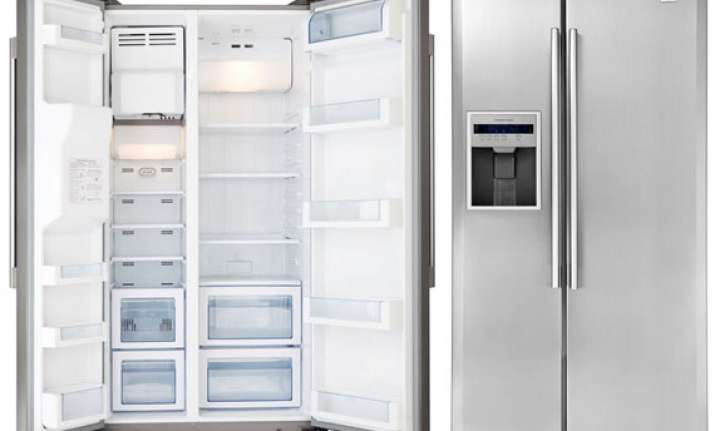 New Delhi: Haier, one of the largest Home Appliances & Consumer electronics brand globally and world's no.1 brand in refrigeration appliances, today launched its new SBS-Side by Side refrigerator with a home bar, HRF 628 AF6. The launch brings together yet another staggering combination of technology and style which can satisfy the need of the modern day urban consumer. Features like a luxury home bar, a 3 in 1 dispenser provide the product all the necessary ingredients to make the product a must have in a modern household.
This SBS refrigerator is a luxury with utility ensuring an unmatched performance and convenience for an Indian consumer with various needs. The product certified with the European A+ rating thus consumes minimal energy. Some of the astoundingly impressive features include a full DC Inverter compressor ensuring noise level remains below 40 db.  
A fascinating feature of the range is the One Touch Holiday Function that intelligently switches off the refrigerator section, keeping the freezer on while the user is away for days. Introducing such up-gradation is testimonial to the fact that Haier has always believed in smarter technology for inspired living. Another interesting feature of the refrigerators is the 1 Hour Icing Technology which enables it to make ice within an hour, making it one of the fastest ice-making refrigerators. 
Commenting on the launch, Mr. Eric Braganza, President, Haier Appliances (India) said, 'A refrigerator is no longer a product meant only to store food but has become an extension of the home décor. The industry has witnessed a surge in technology advancements and awareness and this product brings together the perfect amalgamation of both. The new SBS refrigerator brings in the perfect mix to suit the requirements of the modern day urban consumer.'  
A new line up of the Frost Free and DC with 1HIT (One Hour Icing Technology) are aesthetically designed to suit the modern day décor. The 1HIT technology in Haier's new line up makes the refrigerators the fastest cooling in the industry. Matching with current trends, the impressive design also gives it a family look. The floral designs are pleasing to the eye and can fit well with an average Indian décor.  
Haier, which has always been synonymous with innovation and inspiration, has made deep in-roads into the exclusive internet driven consumer durable products with the launch of the 'i-age' line of products. The new 'i-age' product line is designed keeping in mind the needs of today's tech-savvy Indians who believe in pace, imagination, intelligence and path-breaking innovations. The 'i-age' products are spread across all 7 product categories (Air Conditioners, refrigerators, washing machine, deep freezers, wine cellars, panels and water heater) where 'i' symbolizes innovation, inspiration, intelligence, internet and individuals of India.