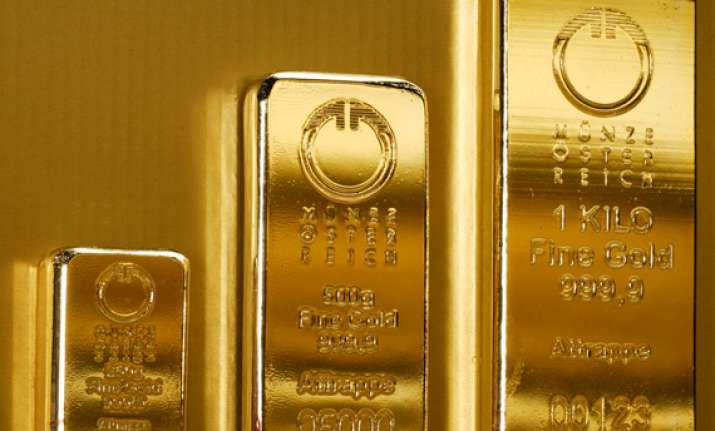 Mumbai: Stocks and the rupee logged their biggest drop in over four months after crude oil prices surged due to the unrest in Iraq but gold provided investors some succour as the precious metal rose in the Rs 350-390 range in prominent metro cities today.
The 30-share S&P BSE benchmark Sensex tanked 348.04 points, or 1.36 per cent, to end at 25,228.17 and NSE 50-share Nifty dropped 107.80 points, or 1.41 per cent, to 7,542.10.  Today's drop in the two equity benchmarks was their biggest since January 27, 2014 when the Sensex fell by 426.11 points and the Nifty slipped by 130.90 points.  Interestingly, the Sensex and the Nifty have fallen for the fifth straight time on a Friday that falls on the 13th. 'Friday the 13th' is considered an unlucky day by some.  
Crude prices extended the previous day's rally to sit at nine-month highs after militants closed in on Iraq's capital Baghdad, fuelling fears over supplies from the crude producer.  US benchmark, West Texas Intermediate, advanced 73 cents to USD 107.26 in late-morning trade after surging USD 2.13 in New York yesterday to reach its highest level since September.
"Markets ended the week with a big fall on Friday. Crude price concerns caused by the geo-political concerns in Iraq marred sentiments in the markets," said Dipen Shah, Head-Private Client Group Research, Kotak Securities.  In the forex market, the rupee today depreciated 52 paise to end at 59.77 against dollar—logging its sharpest daily fall since January 24, 2014 when it had dipped by 73 paise.
The rupee has now depreciated on a Friday that falls on the 13th for the third time in as many occasions.  Gold, however, regained its sheen with prices rising by about Rs 350-390 range per ten grams in Delhi, Mumbai, Kolkata and Chennai. It had surged to two-week high levels in global markets amid increased demand from stockists.  In addition, a depreciating rupee in the forex market, which makes imports costlier, also influenced gold prices.