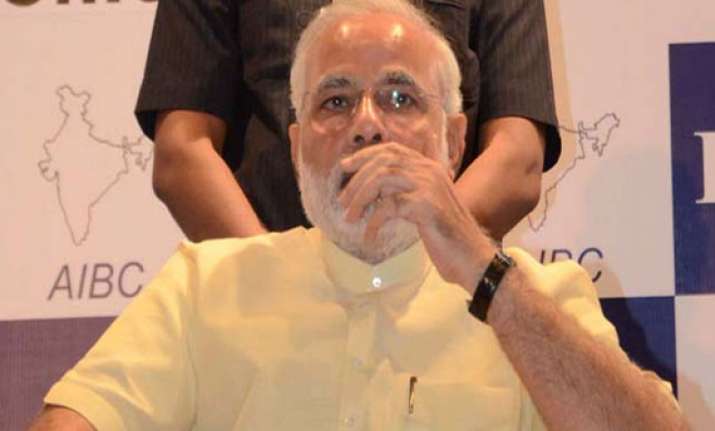 New Delhi: In a restructuring of his Cabinet, Prime Minister Narendra Modi today combined 17 related ministries into seven different groups, including some infrastructure departments, in an apparent bid to ensure synergy and better results.
First the Ministry of Overseas Indian Affairs, created in UPA-II, has been brought together with External Affairs Ministry under Sushma Swaraj, while Corporate Affairs has been brought back to Finance under Arun Jaitley. 
In infrastructure sector, the Prime Minister has combined Road Transport and Highways and Shipping under the Ministry to be headed by
Nitin Gadkari
, who had made a name for himself by adopting an innovative approach in expanding road transport network and bridges in Maharashtra when he was a minister there in BJP-Shiv Sena Government.
Another important infrastructure combination is bringing together Power, Coal and New and Renewable Energy under the independent charge of Minister of State
Piyush Goyal
. These used to be separate ministries with Cabinet ministers in-charge in the previous UPA governments. 
Related ministries of Urban Development, Housing and Poverty Alleviation have been placed under the charge of M Venkaiah Naidu, while Rural Development, Panchayat Raj and Drinking Water and Sanitation have been grouped together under the charge of Gopinath Munde. 
In another minor combination of ministries, Goa's Shripad Naik has been given charge of Culture and Tourism as Minister of State with independent charge. 
However, this is not the first time that ministries have been brought together for the purpose of efficiency and homogeneity.
Late Prime Minister Rajiv Gandhi brought together the infrastructure department of Railways, Shipping and Civil Aviation under one combined Ministry of Transport headed by late Bansi Lal. He had three Ministers of States to help him. 
Gandhi also clubbed education, culture and women and child development under the Ministry of Human Resources Development under late P V Narasimha Rao. The HRD ministry was created for the first time then. 
Former Prime Minister Atal Bihari Vajpayee during his tenure had brought Information Technology and Communication under one umbrella, while his successor Manmohan Singh had brought together Surface Transport and Shipping.