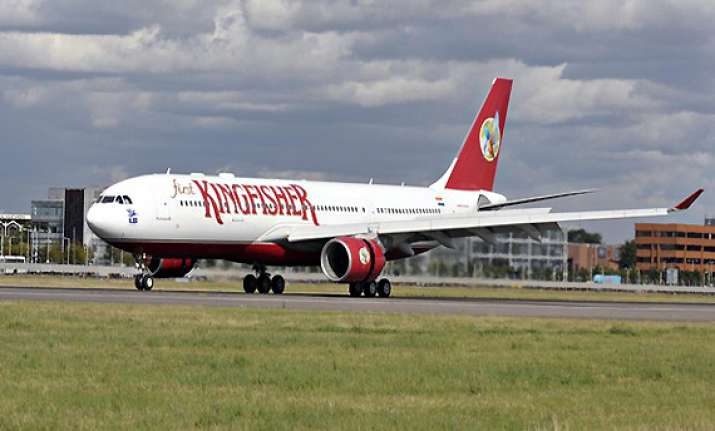 New Delhi, Feb 25: Kingfisher Airlines, which is now operating much lesser number of flights than in November, would not operate direct flights to some major cities and several Tier-II cities now on, as per the truncated schedule it has submitted to the aviation regulator.

Among the cities to which it would not operate direct flights include Jaipur, Thiruvananthapuram, Nagpur and even Hyderabad, sources said quoting the fresh schedule the airline submitted to the Directorate General of Civil Aviation (DGCA).

Kingfisher flyers who wish to travel to such destinations would have to be routed through other cities like its base in Mumbai or Bangalore.

The airline has also informed DGCA that it would strive to bring in to service in the next week or 10 days 16 more planes in addition to the 28 it has promised to the regulator that it would operate. The 28 operational aircraft are 13 Airbus A-320s, four Airbus A-330s and 11 turbo-prop ATRs.

The airline, which has been canceling an average of 40-60 flights a day since last Friday, has said that it had no shortage of pilots and at present, their strength was 510. A batch of 10 pilots are needed to fly one aircraft a day.

The sources said the airline was likely to lose several prime flying slots due to the recent large scale flight cancellations. A flying slot is actually a period of time within which a plane has to take-off.

Kingfisher has told DGCA that its Mumbai-Singapore service, stalled for over a week, is likely to resume shortly, the sources said, adding that frequencies on major trunk routes have also been substantially curtailed. The new schedule is subject to approval by the DGCA.

The cash-strapped carrier had in November sought permission to fly 418 daily flights on a fleet of 64 aircraft during the October-March winter schedule. But shortly thereafter, it was operating only 269 flights on grounds of financial problems.

The number has now fallen to about 170, which it would operate through 28 planes. This situation would continue to be effective till the end of the winter schedule in March-end.

The sources said the DGCA has already decided to launch special safety checks on the 28 Kingfisher aircraft which would be in service. DGCA chief E K Bharat Bhushan recently made it clear that safety issues would not be compromised at any cost.

The regulator would position its officials at Kingfisher's main base at Mumbai airport to oversee the safety programme. They would also conduct random checks on 'defect reports' of pilots, in which the cockpit crew identify the technical snags or any other engineering defects or problems in-flight or since they take over the aircraft.

Based on inputs by its teams, the regulator would send reports on the airline's problems to the Civil Aviation Ministry on a regular basis, the sources said.