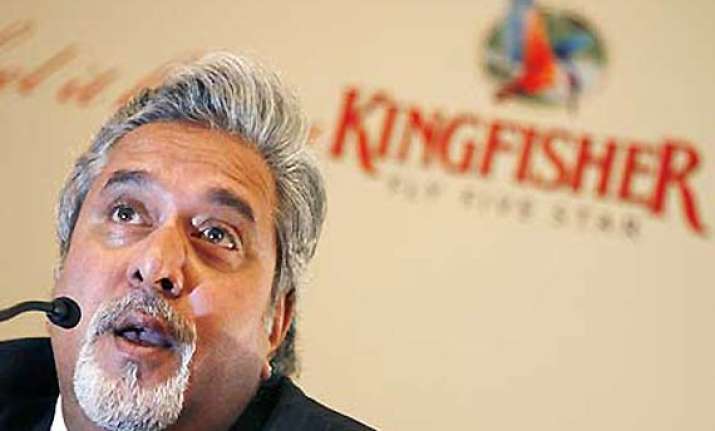 Mumbai, Nov 15: Battling a crisis of survival, Kingfisher Airlines Chairman Vijay Mallya today sought help from banks to raise short-term funds to the tune of Rs 700-800 crore as working capital and interest concession and ruled out its closure.

On a day his company reported a deepening loss figure of Rs 469 crore for the second quarter of this fiscal, he asserted that "to write the epitaph of Kingfisher constantly is not fair."

In a bid to shore up its financial position, the company is considering filing a Rs 2,000 crore rights issue with market regulator Sebi to raise capital.

It has also applied to Directorate General of Foreign Trade (DGFT) for direct import of jet fuel to reduce fuel costs drastically. Jet fuel costs are almost 50 per cent of the total operating costs of the airline.

Addressing a press conference after declaration of the results, Mallya said he has not asked for a bailout from the government or for restructuring of loan from banks.

Facing all-round attack from political parties which are opposing any bailout for his airline, he said, "We have not asked for any bailout from government. We have not asked the government to dip into the taxpayers' money. We have never done it, we will never do it."

Maintaining that lessors had some funds as security for aircraft maintenance, he said "We are in dialogue with banks to open Letters of Credit for these lessors which we can use to recover debt and repay our high cost rupee loans."

Rejecting reports that he had sought a second restructuring of his debt, Mallya said "We have not asked for a concession. We have not asked for a hair-cut.  "Our demands with the banks are mainly two-fold. One is to meet short-term capital needs which have gone up and concession on interest."

The banks have not told him formally that "we should infuse capital. If there is requirement of recapitalisation or infusion of additional equity, we will consider it." Responding to questions on the issue, SBI Chairman Pratip Chaudhuri said here that Kingfisher was not a defaulter and has not sought any fresh credit.

Kingfisher has suffered a loss of Rs 1,027 crore in 2010-11 and has a mounting debt of Rs 7,057.08 crore.  Together, the 13-bank consortium now holds 23.4 per cent stake in the airline and has an exposure of over Rs 7,700 crore.

Asked how much working capital would the airline need, Mallya said, "We require Rs 700-800 crore, which includes both fund and non-fund based. ...We have pursued every opportunity to raise capital."

Welcoming Prime Minister Manmohan Singh's recent statement that the government would find ways to solve the aviation industry's financial troubles, he said, "The Prime Minister is an economist who understands the importance of connectivity."

About the dues to oil companies, he said the airline has paid two state-owned oil companies—Indian Oil and Bharat Petroleum—in full. "We don't owe them a single paise."

On the Rs 600 crore worth of unsecured dues to the HPCL, Mallya said the oil firm has been given bank guarantees "and our unsecured credit has now come down to Rs 40 crore only."

Mallya also said that there were varied credit lines with various suppliers and vendors of the airline and refuted reports that certain lessors wanted to take back some of the leased aircraft in the Kingfisher fleet.

To questions on allowing foreign airlines to pick up stake in Indian carriers, Mallya said, "I am an avid supporter of FDI. I don't see any reason why FDI from strategic partners like an airline should be banned or not permitted. Who would understand an airline better than another airline? I hope government will consider it seriously.

"We need equity to improve the position of balance sheets, not just Kingfisher but the entire industry." Referring to cancellation of more than 200 flights over the past week, he said the cancellations have been blamed on wrong reasons.

"We cancelled flights not because we could not afford to.  Commercial airlines are not expected to operate loss-making routes. Even today Kingfisher is operating the rest of its schedule. We could have handled the situation better. But it was a commercially prudent decision," he said.

The series of initiatives by Kingfisher to raise equity come against the backdrop of SBI, the main lender, telling the company that it has to be satisfied about the viability of the airline.

"There is no point restructuring if the company's operations are not going to be viable. We have asked them to come up with some fresh funds if the banks are to at all consider their request for restructuring. We want to see more funds coming from the company itself," Hemant Contractor, MD of SBI which has the largest exposure of Rs 1,400 crore to the airline, said yesterday.