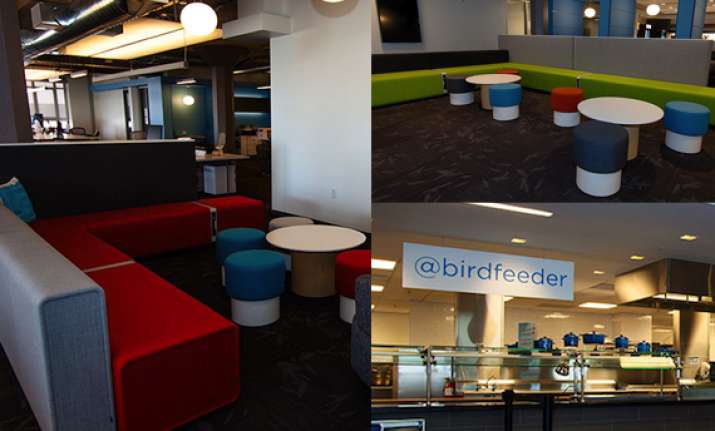 New Delhi, Dec 6: Few months back, Twitter moved to its new office on three of the floors of 1355 Market Street — dumping its old offices at 795 Folsom just like it dumped the old Twitter logo. The micro-blogging giant is among the first companies to move into the Market Square area, where the city's "unique creativity and inventiveness" fits easily into Twitter's DNA, the company said last year.
According to Gabriel Stricker, Twitter's vice president of communications, the firm's new digs are a beautiful landmark property and said its presence in the area "will help revitalize an area of San Francisco where office space has sat vacant for decades."
A peek into the 215,000-square-foot space justifies much of the hype: it has a spacious cafeteria (dubbed "@birdfeeder"), a Zenlike yoga room, and a rooftop deck for employees to bask in the sun--and even to garden. The firms behind the new office, say the new design speaks of sustainability, humbleness and rustic elegance. Since Twitter is not Google – and it's a start-up, you won't see every primary color in the office. The space inside the floors has been designed especially to give a sense of community.
Let's take a photo tour of the beautiful office of Twitter.

The building at 1355 Market Street that has an underground Muni rail station nearby