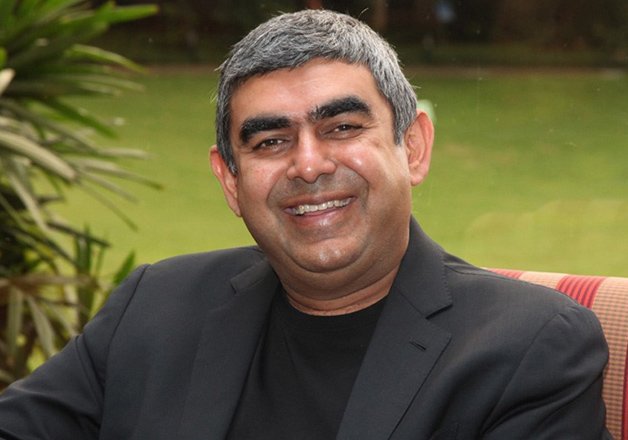 Mumbai: In a clear endorsement to his performance over the last 18 months, India's second largest IT firm Infosys has extended the tenure of its CEO Vishal Sikka by 2 years till March 2021.
The board of directors decided to extend his tenure saying his initiatives have helped the company move towards reclaiming its industry leadership position.
The Board said this was in recognition of restoring the company's leadership in the industry and setting the goals for the next five years which are likely to be achieved.
Sikka was formally appointed as CEO for a period of five years from August 1, 2014 to June 13, 2019. Now the new agreement will run until March 31, 2021.
In a communication to the exchanges on Wednesday, Infosys said, "The management under the leadership of Dr Sikka has drawn up  goals for revenue, margins and people productivity for the year financial year 2020-2021 which are expected to be progressively achieved in the next five years. The Board believes that Dr Sikka's leadership will be essential to achieve these goals."
Sikka has laid out an ambitious goal for Infosys by 2020 to achieve a revenue of $20 billion with a operating profit margin of 30% and an average revenue per employee of $80,000.
Infosys ended FY15 with a revenue of $8.7 billion recording a growth of 5.6% in reported currency. For the current fiscal, it has provided a guidance of 12.8-13.2% revenue growth in constant currency.
The ambitious goal of $20 billion will mean doubling of the revenues in the next five years. The company expects to meet this goal through a combination of various initiatives which mergers and acquisitions, revenue through software platforms and from its core traditional IT services.
Sikka during a recent investor meet reiterated the company's ambition and expressed confidence that it would get back to industry leading growth from FY17. Nasscom, the Indian IT industry's trade body has projected a growth of 10-12% for FY17 and it looks likely that Infosys may extend its ongoing buoyancy.
An executive of a company which is a competitor to Infosys said, "Infosys has been very aggressive in the market and we encounter them in most of the deals. This was not the case before Sikka took over."
Sikka featured among the top 50 CEOs in Glassdoor's annual Employees' Choice Awards for the Highest Rated CEOs in 2015. Prior to joining Infosys, he was a member of the Executive Board of SAP AG, leading all products and technologies, and driving innovation globally.
He is also the creator of the concept of 'timeless software', which articulates the principles for the renewal of products without disruption to customer environments. He is especially known for his championship of technology as an amplifier of human potential, and his passion for applying software in purposeful ways to address some of the biggest global challenges.
Sikka received his BS in Computer Science from Syracuse University. He holds a Ph.D. in Computer Science from Stanford University.